4 Health Habits For New Moms (as seen on TV's 'The Lifestyle List'!)
The Healthy Mommy has been on TV's The Lifestyle List, sharing tips for new moms.
As a new mom, your body, lifestyle, and situation are all unique. The same diet or exercise plan won't work the same way for everyone.
But there is some general advice that DOES apply to everyone, and that's where the Healthy Mommy comes in.
The Healthy Mommy shares tips on The Lifestyle List
As seen on TV's The Lifestyle List (watch the video below!), we have stacks of tips for new moms who are hoping to get started with the 28 Day Weight Loss Challenge.
#1 Become a meal prep pro
The best way to ensure you will stick to your goals is to plan ahead. Meal prep (make in advance) some of your meals and snacks, so that you always have healthy options available to you when hunger strikes.
So if you're making some overnight oats for your breakfast, why not make enough for two or three days? If you're making some of the Slow Cooked Asian Chicken from the 28 Day Weight Loss Challenge, why not make double and freeze a family-sized serve to have next week?
Prepare a week of snacks on the weekend, and freeze or store them in single serves so that you're not tempted by snacks when you're out and about.
#2 Change up your ingredients
Get inspired with new recipes to make healthier choices. The 28 Day Weight Loss Challenge has hundreds of recipes for you to choose from so you'll NEVER get bored!
Some of our popular recipes include HEALTHY versions of your FAVORITE foods:
#3 Get support
Surround yourself with a tribe of other moms to help you achieve your goals together. The Healthy Mommy has THOUSANDS of moms taking part in the 28 Day Weight Loss Challenge, and they share their tips and advice in the FREE Facebook support group. You can join now, for free, and ask questions, share photos, or get inspired by the real mom's stories.
#4 Embrace the tech
The 28 Day Weight Loss Challenge app helps you manage your recipes, meal plan, shopping list, and exercise plans – on the go! You can even do the exercises at home (no gym necessary!). Download the 28 Day Weight Loss Challenge app now to get started!
We recommend you follow the 28 Day Weight Loss Challenge as it was built FOR moms BY moms.
The Healthy Mommy app has even more tips for you including: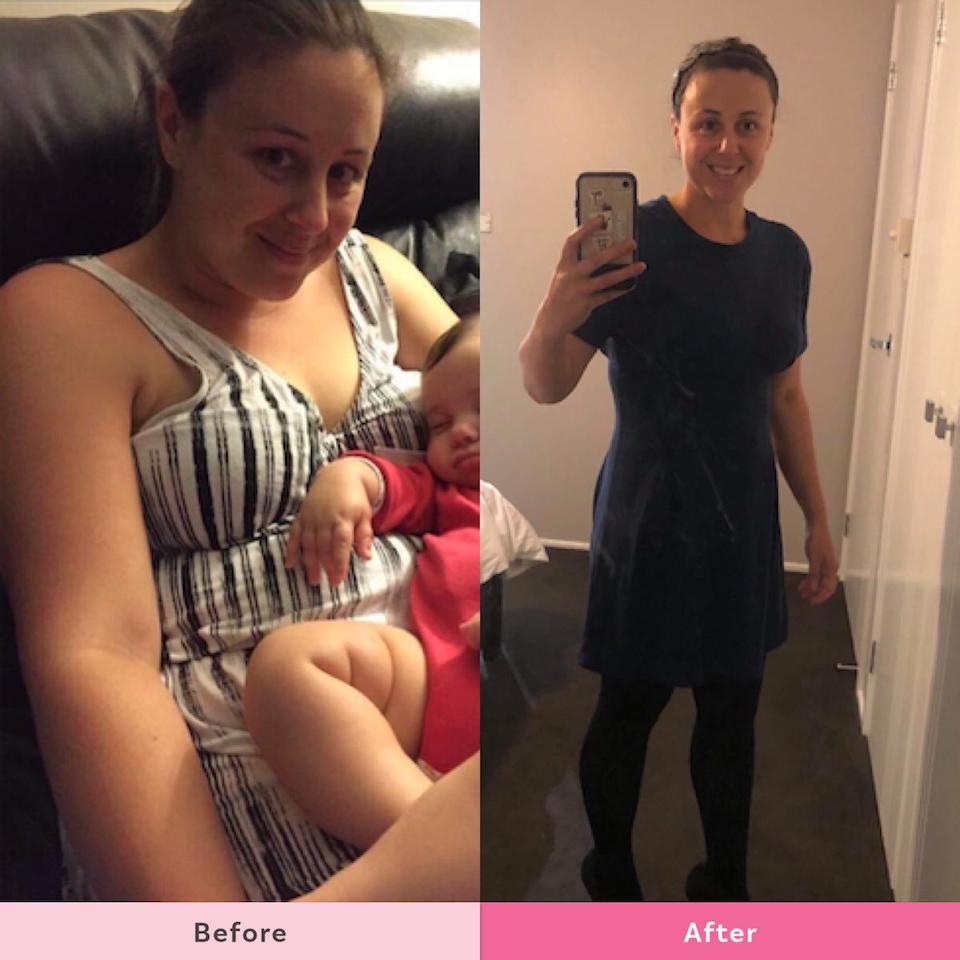 Work out your BMR and BMI on the 28 Day Weight Loss Challenge app, so that you know the recommended calories you should be taking in for weight loss. It's also advised to take your measurements, as the scales don't always tell the truth, so you might find that your waist is shrinking if you take monthly measurements.
At home HIIT workouts are perfect for busy moms as they are fast, effective, and can be completed at home with the kids. You can get all of these on the app.
Stay hydrated, as this is beneficial for weight loss. You can add some fresh mint, cucumber or berries to your water to keep things interesting.
Support is essential for new moms, so be sure to check out the Healthy Mommy Facebook support page. You're already doing a great job, but there really is no such thing as too much support!
Read the stories of real moms just like you who have successfully lost weight with the Healthy Mommy.
Are you ready to become a Healthy Mommy?
Our Challenge is designed by moms FOR MOMS – to help them reach their goal weight and tackle their health and fitness.
The Challenge is home to customizable meal plans, 24/7 social support and realistic exercises moms can do AT HOME.
To find out more on the 28 Day Weight Loss Challenge click here.