7 sugar-free school-approved lunch box treats that your kids will LOVE!
It's not always easy finding healthy and nutritious snacks for your kids that they actually want to eat!
Annette Palma, who is a member of our Healthy Mommy community, has shared some of the awesome treats she makes for her children's lunch box – and they are all from the 28 Day Weight Loss Challenge. 
(You can see Annette's 44lbs* weight loss transformation below too).
Annette's 7 school-approved snacks
1. Pear Chips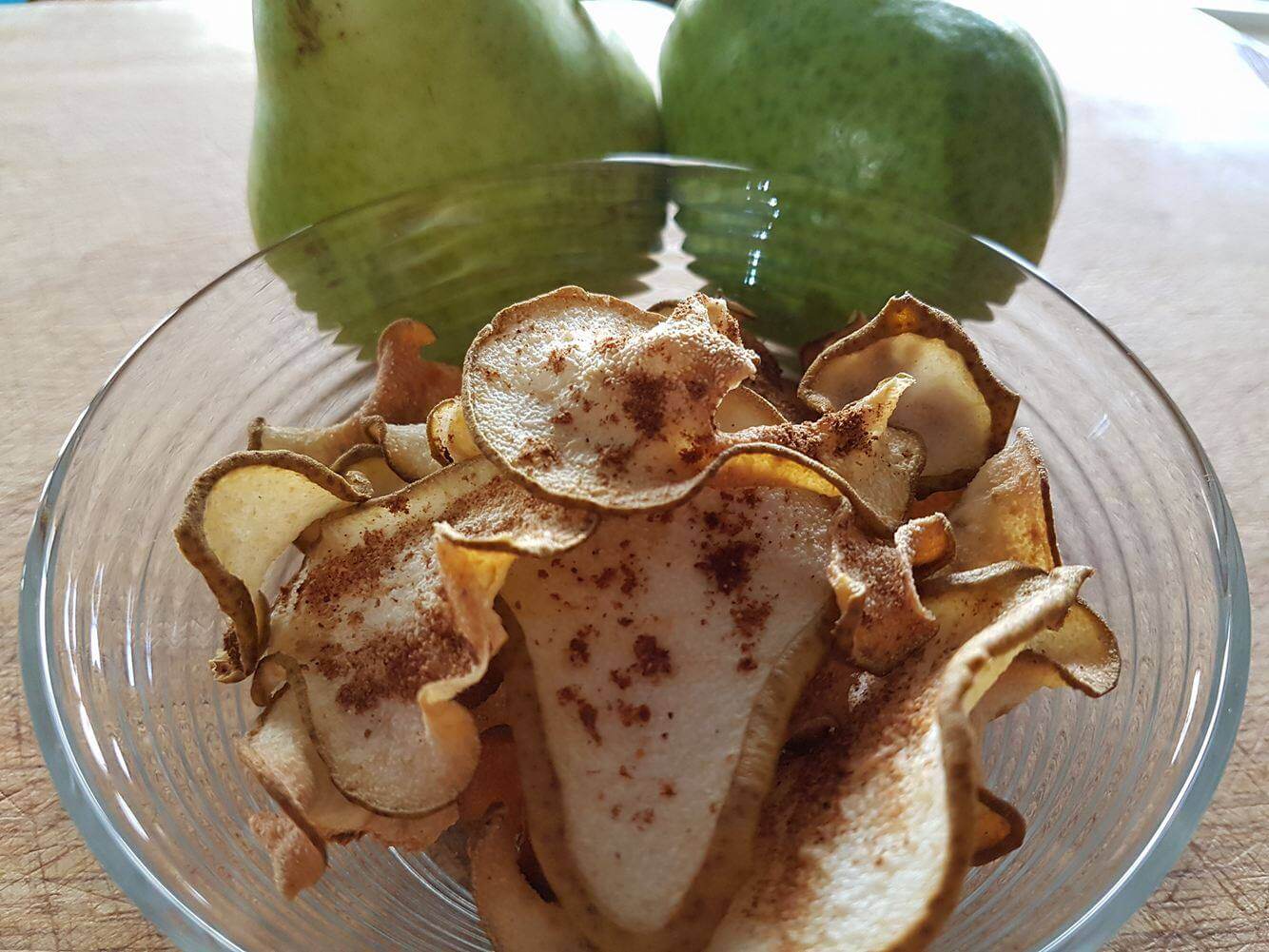 "Pears are fairly cheap at the moment which makes this recipe perfect if you're on a budget as it only requires two ingredients! It's also another great way to get an extra serving of fruit into my kids' lunch boxes throughout the week. They're super quick to prep as well and I made them while dinner was cooking.
"I like to cook them fresh throughout the week so they don't lose their crunch after being cooked and to save time I pre-slice my pear and keep it in an air tight container in the fridge for a day or two."
Ingredients
2 firm pears
1/2 tsp mixed spice
Method
Pre heat oven to 120C / gas mark 0.5.
Thinly slice the pears and deseed (no need to peel).
Arrange the slices on a lined baking tray and sprinkle over the mixed spice. Bake for 35-40 minutes. Allow to cool before serving as a crunchy, sweet side. Can be made ahead of time and stored in a ziplock bag until ready to serve.
2. Choc Raspberry Bites
"My kids love these! And if you love getting your little ones in the kitchen to help you out then this is a great recipe to get them involved in.
"To make them sugar free I just leave out the Natvia or icing sugar as they taste just as good without it. Fresh raspberries are often quite expensive so being able to make these with frozen raspberries makes it great for the grocery budget.
"If you're little ones don't love raspberries you can substitute them for other fruits such as, strawberries, blueberries or cherries which are all also available frozen. I like to leave these in the freezer and pop them into lunch boxes while frozen so they are perfect for snack time and haven't melted."
For recipe, click here.
3. Choc Chip Muffins The Healthy Way
"These are a fantastic one to make if you want to keep a stash in the freezer as they freeze and defrost so well or will keep just as well in an air tight container for a few days.
"They're quick, simple to make and the kids will love giving you a helping hand! They're also HEAPS healthier than the store bought version from the supermarket and still just as tasty."
This recipe is available to Challenge members on the 28 Day Weight Loss Challenge 
4. Lunch Box Muffins
"There are so many great things about this muffin recipe!
It's sugar free

It's nut free – perfect for school, nursery or day care lunch boxes!

It's made with two different fruits

Quick and easy!

Store in an air tight container or zip lock bags in the fridge

Make extra and freeze them for those crazy weeks when you're short on time!"
Get this recipe here.
5. Pikelets
"The sky is the limit with these! Just 3 ingredients that I can pretty much guarantee you will already have in your fridge and pantry and you've got 18 pikelets that you can top with absolutely anything you like. 
"You can go with the traditional sweet toppings like homemade chia jam, some pure maple syrup or fresh berries. Or you can go for something a bit more savoury and top with things like cheese, ham, pesto, tomato, etc. Or you can be like my children and love to take them topped with butter and rolled up in your lunchbox! These never last long enough for me to need to freeze them (which you can do) so I just store them in an air tight container in the fridge."
Click here for recipe. 
6. Crustless Quiches
"These are perfect as a quick lunch that taste just as yum cold if there aren't any heating facilities for children's lunches at school. 
"These quiches make it super simple for me to get an extra serving or two of veggies into my kids' day. I often make double batches of these so I have some ready for the week that I store in an airtight container in the fridge and some either in an airtight container or even zip lock bags in the freezer if you're short on space."
7. Simple Veggie Packed Frittatas
"The first few times I made these frittatas I followed the recipe but now I usually whip a batch of these up on a Sunday night when I have veggies that I need to use before letting them go to waste. You can even add in some chopped up ham or bacon for extra flavor. 
"Again, I make double batches of these and either store in an air tight container or zip lock bags in the fridge or freezer."
For recipe, click here.
You can find all of these recipes on our 28 Day Weight Loss Challenge.
Annette's Incredible 40lbg Weight Loss Story
Annette is Healthy Mommy Community member who is actively supporting and motivating other moms on our Community
Here she shares her amazing weight-loss journey after having babies. Annette lost an incredible 40lbs* after giving birth to her second child.
She says: "I loved the 28 Day Weight Loss Challenge and how everything was set out for me to succeed.
Want to get in the best shape of your life? Join the 28 Day Weight Loss Challenge TODAY!
Think of the 28 Day Weight Loss Challenge as the best value personal trainer, dietitian, meal planner, chef and motivational coach with DAILY support – that you have access to every day – without the high cost and all created JUST FOR MOMS.
Each month is DIFFERENT on the 28 Day Weight Loss Challenge. EVERY MONTH you receive NEW 28 Days of FAMILY FRIENDLY customizable meal plans, daily exercise plans with videos and daily support. It's also breastfeeding friendly.
Join the 28 Day Weight Loss Challenge today!