This mom lost 93 lbs in 9 months, that 10 lbs a month!
After a 77 lbs weight loss in 10 months and a Healthy Mommy pregnancy mom-of-two Melanie Lewis lost a massive 93 lbs in just 9 months after her second pregnancy! She has been a Healthy Mommy for 2 years and she says "I couldn't feel any better". 
She shares her weight loss success story below.
Joining The Healthy Mommy 28 Day Weight Loss Challenge
After the birth of her first baby two years ago Melanie weighed 240 lbs and was looking for help to lose the weight, she joined the 28 Day Weight Loss Challenge.
She was amazed at the results she saw in just 8 months she lost 77 lbs (getting down to 163 lbs) then Melanie fell pregnant with her second baby.
Determined to maintain her Healthy Mommy lifestyle and not pile the weight she had lost back on during her pregnancy Melanie exercised up until she was 38 weeks pregnant. It obviously worked as she only gained about 55 lbs during the whole pregnancy.
Melanie had a beautiful healthy baby boy.
Starting The Healthy Mommy program again
After her son was born, Melanie was ready to start her 28 Day Weight Loss Challenge journey again.
She says "I was so worried during my second pregnancy that I'd never get my pre-baby body back but here I am even better 9 months later.  I'm now lighter than when I fell pregnant with my son."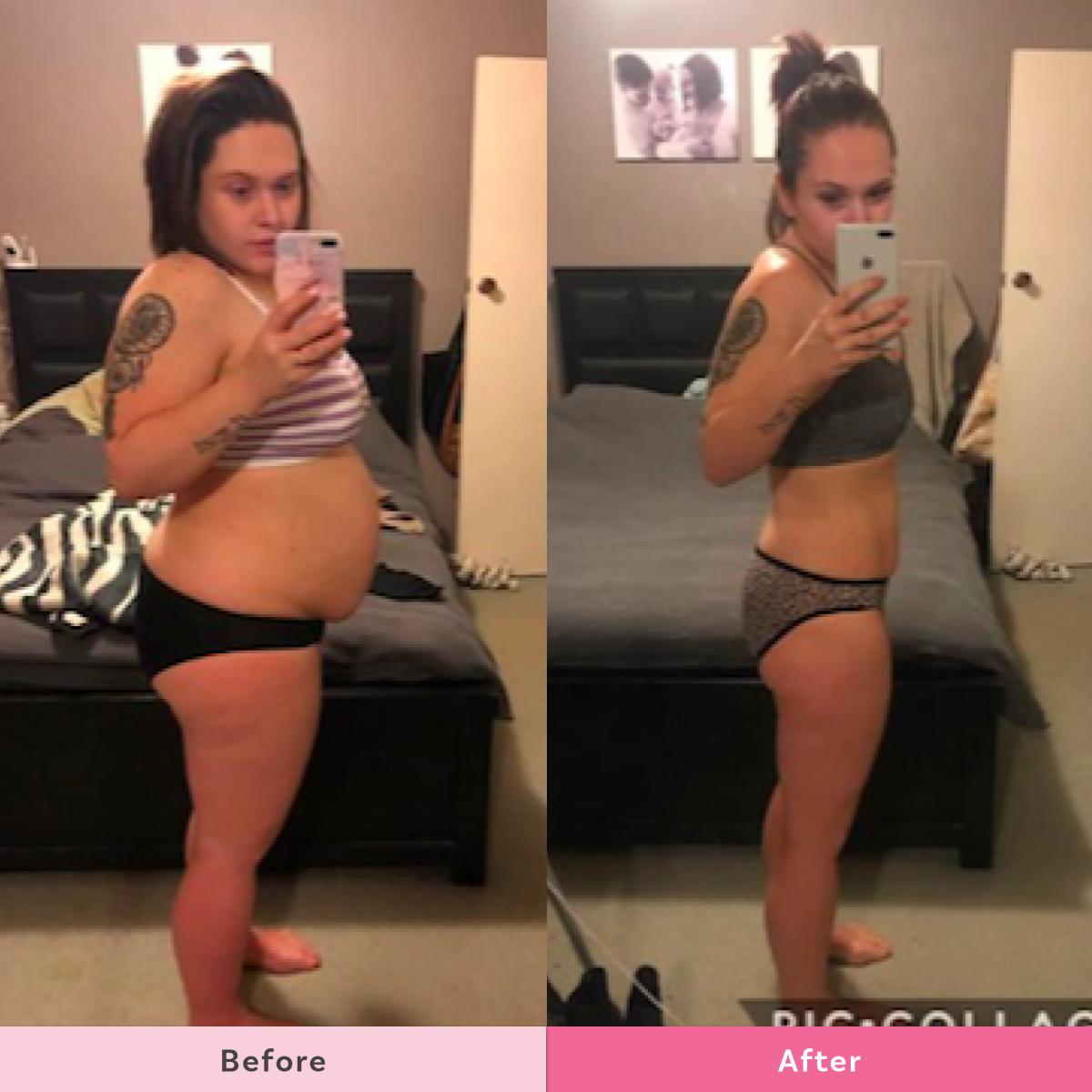 Weight loss results – 93 lbs in 9 months
Melanie says, "I'm down a total of 93 lbs, I've had 2 beautiful babies (a 2-year-old and a 9-month-old).
 I never thought I'd be so close to goal weight, and look at me now here I am 147 lbs.
I am just 4 lbs off my goal weight now."
How Melanie achieved her results
As a Healthy Mommy 28 Day Weight Loss Challenge lifetime member Melanie is the first to admit that The Healthy Mommy is a lifestyle, not a diet.
She says "When I first started after I had my daughter 2 years ago I would exercise five times a week".
After her recent birth, she says "I now continue to eat good healthy food from the 28 Day Weight Loss Challenge meal plan (she swaps around meals to suit her family) and exercise to keep my mental state right as well as my physical appearance."
Exercise routine
At 6 weeks postpartum Melanie says, "I was back at my local Bootcamp doing what I could do and felt comfortable doing. I listened to my body and that's the best thing I could have done. It's allowed me to be where I am now instead of rushing straight back into fitness!
I found walking wasn't enough for me. I do a HIIT cardio boxing class almost every day then a circuit class with weights once a week.  I run over 12 miles per week as I'm now training for a half marathon".
The Healthy Mommy gave me confidence
"I'm so glad I found The Healthy Mommy 2 years ago. The Healthy Mommy has helped me find myself and the confidence I lacked before I had kids!"
Are you ready to become a Healthy Mommy?
Our Challenge is designed by moms FOR MOMS – to help them reach their goal weight and tackle their health and fitness.
The Challenge is home to customizable meal plans, 24/7 social support and realistic exercises moms can do AT HOME.
To find out more on the 28 Day Weight Loss Challenge click here.
*Images and references to pounds lost are as supplied by the individual in the story. The Healthy Mommy assumes information and photographs supplied to be true in nature and is not responsible for any false misrepresentations or claims relating to their programs or products.