Do you wear all black clothing to hide your body? "You are not alone" says mom
Dressing head to toe in all black clothes is visually slimming so it is no surprise that many moms who are feeling less than confident in their own bodies often hide behind this type of uniform.
Mom Sar McGowan knows first hand what this is like. But after 10 years of hiding away in all-black outfits, she is finally embracing patterned and colorful clothes and the positive impact it is having on her mental health is HUGE.
She shares what caused her to make this change and how her life has improved.
It is no secret that losing weight and fueling your body with nutritious food can have a huge impact on both your mental and physical health. But it is amazing what color can do too.
For mom Sar losing 28 lbs with The Healthy Mommy 28 Day Weight Loss Challenge and improving her health helped her gain body confidence and try new clothes.  Now wearing patterned and colorful clothes for the first time in 10 years she feels FABULOUS.
Here is her story.
Afraid to wear anything but black
"When I started my Healthy Mommy journey I never wore anything other than dark, plain trousers.
I felt they would make my legs look smaller and I would be able to blend into the background where no one could see the person I had become!" says Sar.
She hadn't bought a new pair of trousers for over 6 years – reusing her maternity trousers, leggings, and joggers. Sar said, "they just became more and more worn."
My mental health suffered
"I realized that this was affecting my mental health as everything was getting so worn I struggled to find clothes without holes in them."
As Sar's weight piled on she lost all interest in shopping. "I just had no interest in shopping (as I am a born and raised shopaholic, this was yet more proof of how low I had sunk!). I'd become afraid of going into shops that I used to love as I knew I would look awful in everything and would end up feeling a thousand times worse!"
Joining The Healthy Mommy 28 Day Weight Loss Challenges
Sar decided to sign up to The Healthy Mommy 28 Day Weight Loss Challenge 14 months ago and started following the healthy meal plans and exercises.
Weight loss results
Sar lost 28 lbs and went down 3 dress sizes (from size 22+ to size 16).
Her starting weight was 267 lbs and she is currently 239 lbs.  She says "My weight loss was mainly during the first 6 months. It has slowed this year due to injury and illness hampering my progress!
Just recovering from illness at the moment and then throwing myself back into The Healthy Mommy workouts and running.
The big deal for me is that I haven't piled all the weight back on despite having to slow down over the last 6 months."
"I got my shopping mojo and body confidence back"
Sar says "Thank you Healthy Mommy and you wonderful ladies in The Healthy Mommy Facebook support group as I have got my shopping mojo back!
I have the confidence now to go and pick out things that I like and try them on."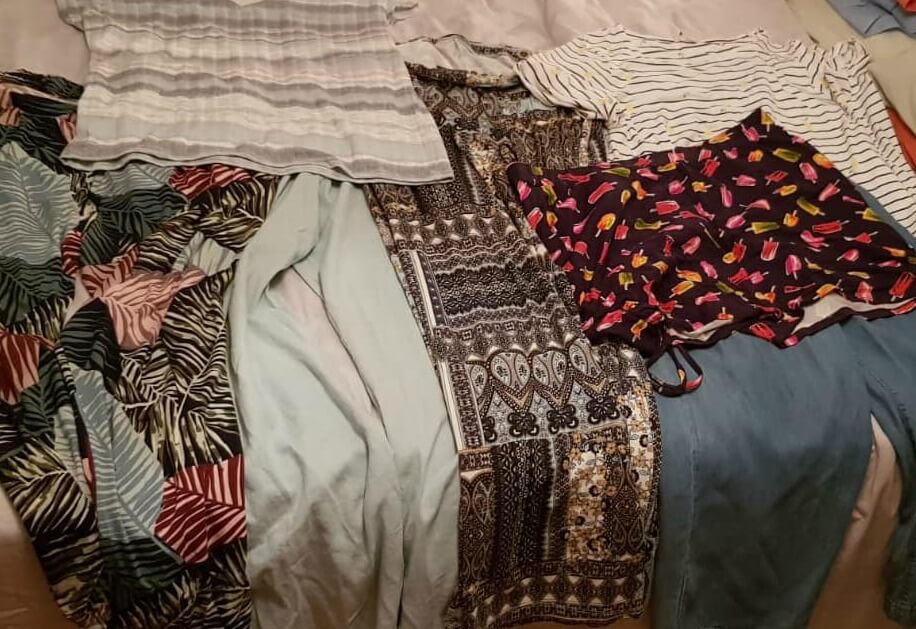 "Not only did I buy 1 pair of trousers, I bought 4! And a top and a pair of shorts!
And….I was confident and brave enough to buy them in a size 16. They didn't just fit, they were perfect, and even a little loose in places!"
"I am on a mission to not hide anymore"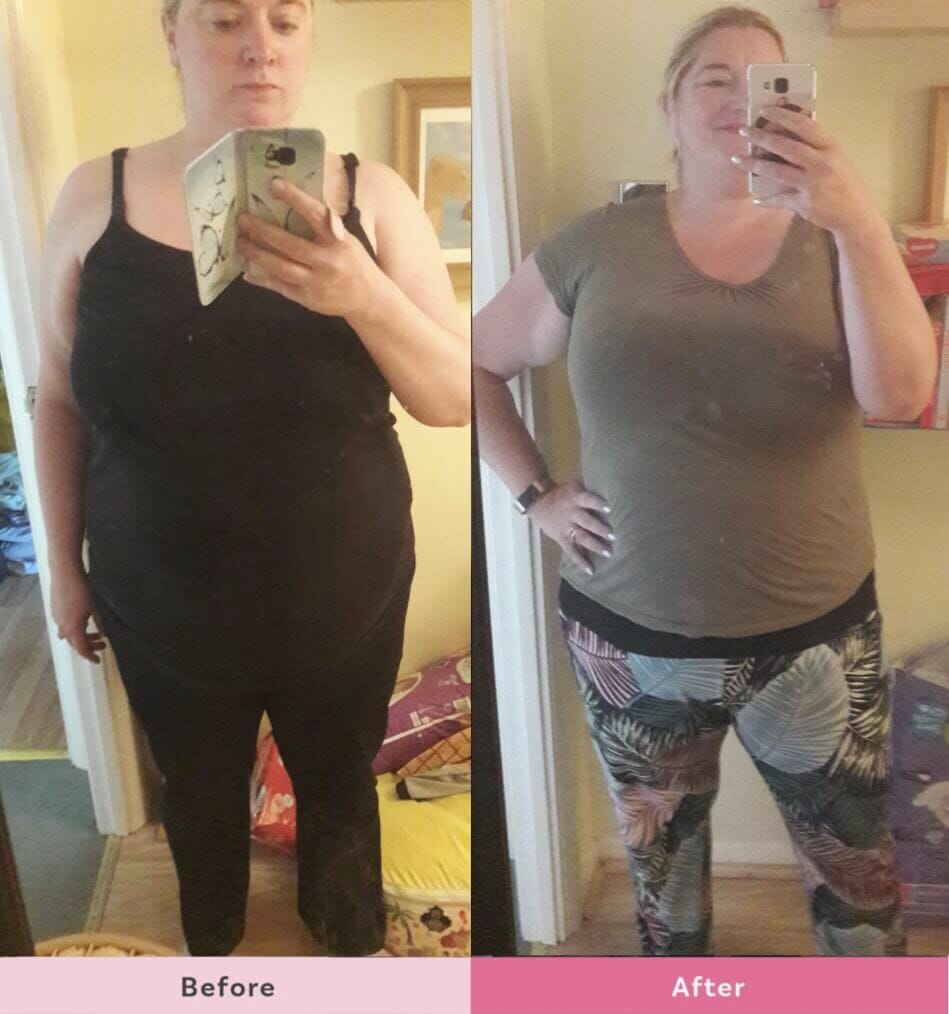 Sar says "In the photo on the right I am wearing one of my new pairs of trousers….they are patterned, (NOT PLAIN BLACK).
I felt fabulous wearing them as I walked my daughter to school and back, took my son to dance class and walked around to do some shopping.  
I'm not on a mission to hide anymore!
Thanks to The Healthy Mommy, I've gone from a size 22+ to a size 16 and the improvement to my mental health is unbelievable!
Never in the past would I have had the guts to buy even one pair of trousers like this! I would have gone up to them, loved them, coveted them and just walked out the door!
I'm so grateful I found The Healthy Mommy as I am finally becoming the woman I forgot ever existed for the last 10 years!"
Enjoying the non-scale victories
"The important thing is I am enjoying all the little changes and Non-Scale Victories along the way.  I don't mind how long it takes!"
How has your life changed since starting The Healthy Mommy?
MORE CONFIDENCE – "I've got so much more confidence than I ever thought would be possible….even confident enough to risk going on the equipment at the playground with my kids last week which was a huge Non-Scale Victory (NSV) for me!"
HEALTHY RELATIONSHIP WITH FOOD – "A healthy relationship with food for the first time in my life."
SELF BELIEF – "Self-belief that I can achieve and reach my end goals, no matter how long it may take."
SUPPORTIVE NETWORK OF MOMS INSPIRING ME – "The knowledge that I am not alone thanks to this incredible group of inspiring, beautiful women who have supported me so much through my ups and downs and who have helped this Mommy find herself and her true smile again!"
I'M A POSITIVE ROLE MODEL – "

I am finally becoming the Mom my children deserve and can look up to."

LIVING LIFE TO THE FULL – "I am living my life rather than hiding in the background."
Sar says "I still have a long way to go in my journey but the difference that has already occurred since my first 28 Day Weight Loss Challenge 15 months ago still overwhelms me!
I have a long way to go and I am slowly working my way to a size 10-12 but with The Healthy Mommy lifestyle and you inspiring, encouraging, beautiful women on my side, I WILL get there!"
Thank you for sharing your story, Sar. The Healthy Mommy team are incredibly proud of you for embracing this new healthy lifestyle and regaining your body confidence. We know you will smash your weight loss goals in no time.  In the meantime, keep shining bright in those colorful and patterned clothes. You deserve to get noticed!
Lose weight with thousands of other moms

Regain your body confidence with The Healthy Mommy's 28 Day Weight Loss Challenge.
Our Challenge is designed by moms FOR MOMS – to help them reach their goal weight and tackle their health and fitness.
The Challenge is home to customizable meal plans, 24/7 social support and realistic exercises moms can do AT HOME.
To find out more on the 28 Day Weight Loss Challenge click here.