The 28 Day Weight Loss Challenge is the BIGGEST weight loss program made JUST FOR MOMS
The NEW Healthy Mommy FIT programs will be in our FAMOUS Healthy Mommy app – which is also home to the 28 Weight Loss Day Challenges.
You can learn more about this FANTASTIC NEW FITNESS PROGRAM below, plus your AMAZING VIP Sale Event be sent to your inbox very soon.
Check out the BRAND NEW fitness programs and trainers that you will LOVE!!
NEW 28 Day STRONGER program
Our NEW 28 Day STRONGER program is all about STRENGTH and FITNESS.
Nat, SUPER strong mom of two and one of our amazing new fitness instructors, will help get you FITTER & STRONGER in 28 days.
She will lead 28 Day STRONGER for beginners and ADVANCED.
28 Day POWER YOGA program
The NEW 28 Day POWER YOGA program will GET you FIT and FLOWING. 
The program is led by Shauna, a mom of two, who is a POWERHOUSE in yoga. 
Her aim is to balance the mind, body and spirit in each practice, so you can feel AMAZING inside and out.
NEW 28 Day DANCE STRONG Program
We are so EXCITED for our NEW 28 Day DANCE STRONG fitness program.
Rachael, a certified Dance and Aerobics Fitness Instructor, has a PASSION FOR HELPING women ease into a healthy and active lifestyle.
We think you are going to LOVE her EXCITING and FUN 28 Day DANCE STRONG Strong Workouts.
Plus when you become a member of the 28 Day Weight Loss Challenge you also get access to over 350 exercise programs including belly busting, butt & thigh, HIIT training, cardio, fully body & pilates. No equipment required – workout from home – perfect for BUSY moms.
The 28 Day Weight Loss Challenge is AFFORDABLE, REALISTIC, EASY TO FOLLOW – and made for busy moms
Join the challenge and get access to the The Healthy Mommy App. It is PACKED with great features that help you save time and money. 

✔︎ Over 1,000 family and budget friendly recipes.
✔︎ Nutritionist-designed meal plans that can be customised to suit your dietary needs – dairy free, vegetarian, gluten free menus available.
✔︎ Daily 30 minute fully instructed fitness programs to suit your fitness level, from postnatal to advanced. Designed by our Fitness Experts.
✔︎ Exercise programs including strength training, cardio, fully body & pilates. No equipment required – workout from home – perfect for BUSY moms.
✔︎ Messages from the Healthy Mommy Coach that motivate you and give you tips on health, budgeting, fitness and more. Plus, you can upload progress photos to empower you and remind you of how far you have come.
✔︎ Support from our global community of 1.5 million moms.
The Healthy Mommy has featured in the following media
Get support from our global community of 1.5 million moms
Join our Healthy Mommy Community. 
You can join thousands of busy moms in our supportive, moms only, private support group. Get advice and support 24/7 on REALISTIC weight loss, and on living a healthy life.
Meet some of our AMAZING moms who are transforming their lives
Meet Phila
Phila, mom-of-two, has lost an amazing 16 pounds.
She says The Healthy Mommy has helped her feel better about her self and given her a real boost of self confidence.
"Love yourself enough to treat and feed your body healthy and nutritious foods. Move your body every day, even if it is just half an hour of brisk walking and get enough rest! Try for at least 6-8 hours a night."
Meet Melanie
Melanie has lost an INCREDIBLE 130 pounds.
Before starting on her Healthy Mommy journey, Melanie lived a life of yo-yo dieting which saw her gaining all her lost weight back once she stopped.
"I have had huge wins during the past 3.5 years with The Healthy Mommy. I have made beautiful life-long friendships which is the biggest win for me and I found the confidence to be MYSELF around others. I got ME back!"
Meet Cindy
Cindy has lost an INSPIRING 55 pounds over the past three years.
She says, "Maintaining a Healthy Mommy lifestyle has not only restored my own self confidence but it has created a foundation of healthy eating for my children."
A little bit about The Healthy Mommy
We are a health community created EXCLUSIVELY for moms.
We are a health community created EXCLUSIVELY for moms that is here to empower and support you. We offer meal plans, exercise plans and weight loss plans – all of which are tailor-made for moms and are all breastfeeding friendly.
 Read more stories from our Moms weight loss journeys
Meet Christine
Christine has lost an AWESOME 38 pounds
Suffering from back and joint pain, Christine has never felt better in her life with energy levels and self confidence she didn't think was possible.
"Joining The Healthy Mommy has changed my whole families lives, not only have I lost 38 pounds, I have gained self confidence and energy levels I never thought could be possible in my late 40's."
Meet Robyn
American mom Robyn has lost 17 pounds in only 6 months.
Before discovering The Healthy Mommy she used multiple 'quick-fix weight loss tricks, all which did not work.
"I want to be the mom that can INSPIRE other moms they can do it too. I want to show myself I can be healthy and strong for my daughters." 
Meet Mel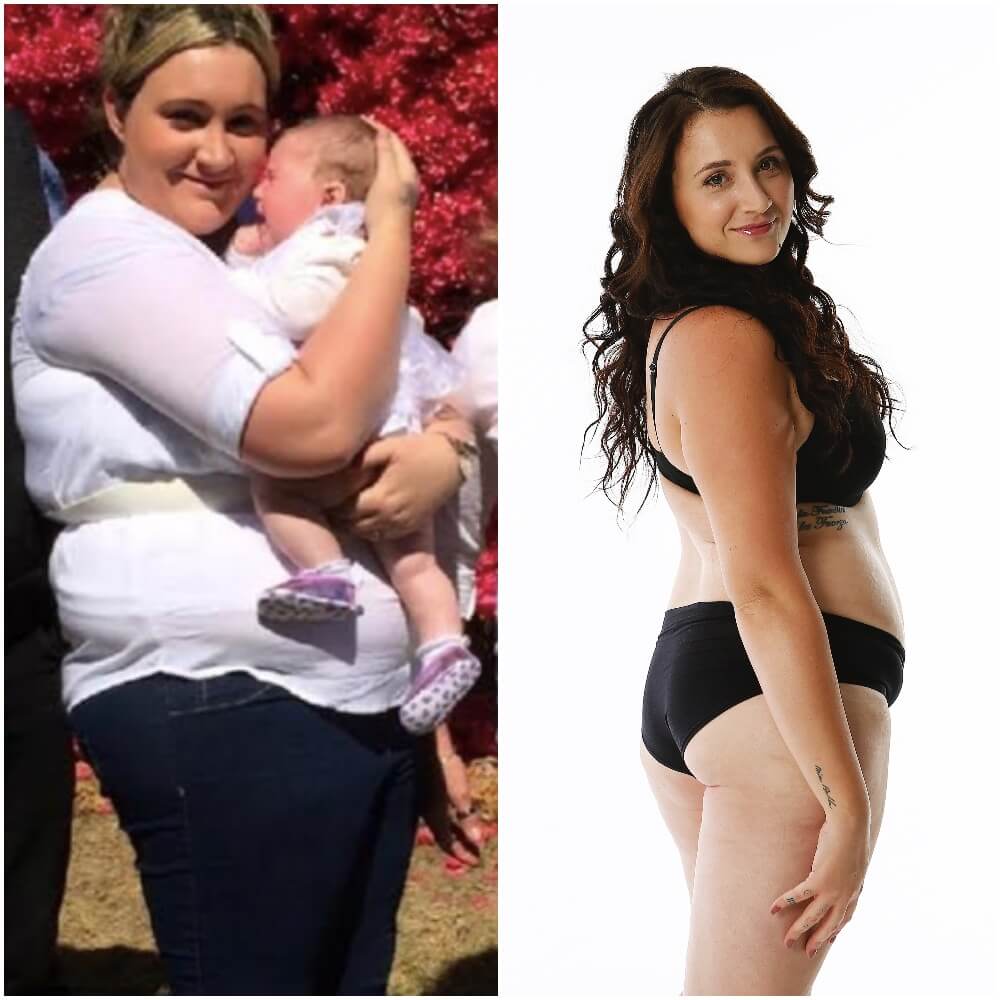 Mom Mel has lost an AMAZING 130 pounds
When Mel started her Healthy Mommy journey posing in her underwear for a photoshoot certainly wouldn't have been something she would've considered.
"I was 298 pounds so this sort of thing would never have crossed my mind. Even when I was younger and I was quite thin, it would have been completely out of my comfort zone."
Meet Samara
Samara has lost 38 pounds
Samara, single mom-of-two, suffered depression and anxiety after gaining over 44 pounds during her second pregnancy.
"Being a single mum of 2 girls hasn't been easy. These girls look up to me and model as I do. So it's important for me to show them how to have a healthy relationship with food and exercise. The Healthy Mommy makes that easy!"
Congratulations ladies, you all look FANTASTIC!