CUTE video: Mom breaks down in tears after hearing her baby girl laugh for the first time
When Andy and Melissa Fischer first heard their baby daughter Veda, four months laugh or the first time it was a very emotional time.
Little Veda was born early and had spent time in hospital due to health complications.
Check out the cute video below…
Mom loses it after hearing baby daughter laugh for the first time
Andy, who is from Minnesota in the U.S., shared the sweet clip on his Facebook page, captioning the vid: "My wife lost it when our baby laughed for the first time."
Veda was born three and a half weeks early and when she was a month old she was readmitted to hospital because of health complications.
In the video, Melissa is seen holding her beautiful girl who is giggling away and making her mom cry.
"You're the best. You're the sweetest. You're amazing. You're making mama cry," someone can be heard telling Veda in the clip.
"It's the best thing in the world."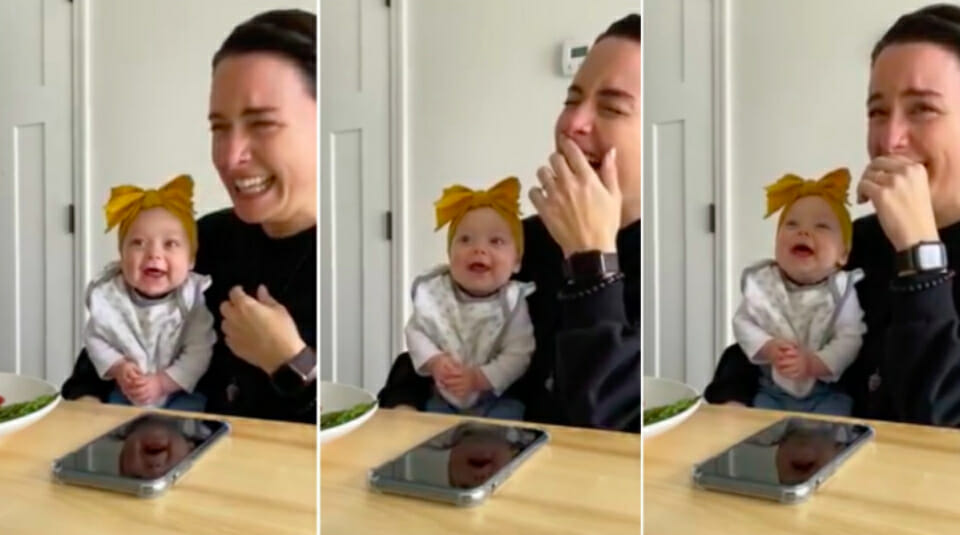 Awwww! Too adorable.
"[Veda] made a small giggle an hour before, and my wife wasn't around and didn't believe me when I told her," Andy told People.
"Later, we were sitting down for lunch, and I made a silly face at Veda and she couldn't stop laughing.
"We are so happy that this has been so impactful and uplifting to so many!"
"Being new parents has been difficult to say the least! The moment we captured in the video was so redemptive for us."
This video certainly has brought tears to our eyes as well!
Thanks for giving us permission to share it, Melissa.
Join The Healthy Mommy community
Have you connected with us on our social media platforms with over 2 million moms?
When women support each other incredible things happen! With over 2 million like-minded mums globally, who can offer daily support to the Healthy Mommy members, we have communities that are here to support, motivate and empower you 24/7.
All our private groups are moderated every hour by our professional staff, to ensure a safe and non-judgemental environment.
Join our huge social communities with hundreds and thousands of moms just like you. JOIN HERE