Frozen or fresh? The healthiest way to eat fruit and vegetables
Fresh is always best? When it comes to frozen veggies and fruit that might not always be the case.
Here's what we've learned…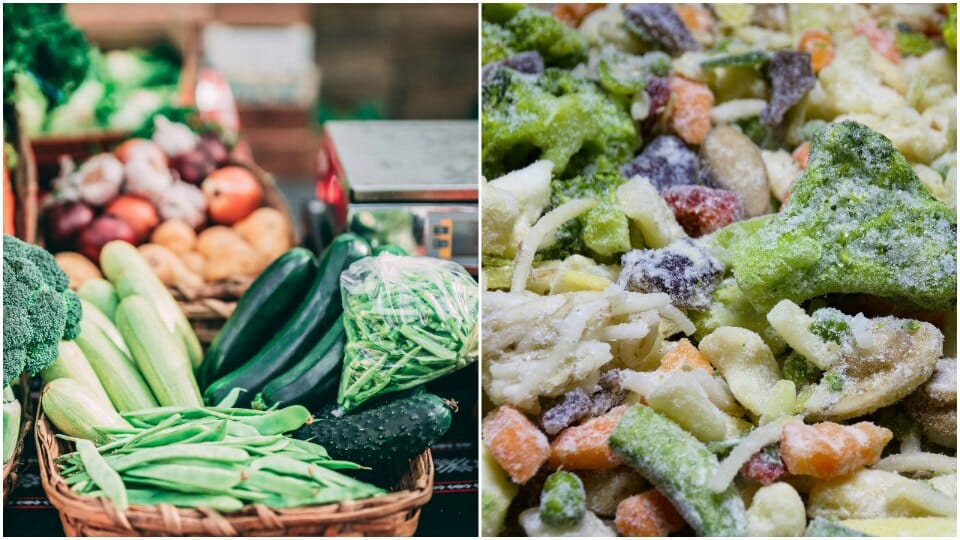 Pros and cons for eating frozen or fresh fruit and vegetables
Just because it's frozen doesn't mean it's not fresh. Some say, frozen veggies and fruit are better than fresh because they've been placed into freezers as soon as they've been picked and therefore hold onto their nutrients.
Whereas, fresh fruit may lose nutrients after being transported from the farms to the supermarkets along with having to endure poor temperature and light conditions in stores.
Some experts claim that fresh fruits and veggies lose up to 20% of their vitamin C content when stored at room temperature.
A recent study by the University of Chester and Leatherhead Food Research found in 66 per cent of cases, that frozen fruit and vegetables contained more antioxidants such as vitamin C, compared to fresh varieties stored in the fridge for three days.
How frozen veggies help stop waste

What's more, frozen veggies also help cut down on waste, as we tend to throw things out of our fridge as they go off.
While frozen veggies store well for months on end in the freezer.
But there are also heaps of benefits for fresh veggies and fruit. Not only do they visually look appearing and taste great, they're also ready to eat.
Frozen veggies or fruit may need to be thawed and when it comes to a salad, nothing beats fresh lettuce, tomatoes and cucumbers.
Growing your own may be the best way

With this in mind, it may be worth growing your own veggies and fruit in your garden. This way, you can pick the food as and when you need it. Plus, it saves on money.
Melanie McGrice, a spokesperson for the Dietitians Association of Australia, tells ABC News: "Whether fresh is better [than frozen] depends on how fresh the veggies actually are.
"Picking veggies from your own veggie garden out the back has to be the optimal situation. [But] in Australia, veggies often have to travel a very long distance to get to us. This can take several days.
"We know that the longer it takes to get fresh food to us from the farm, the more the nutrients [in the food] slowly decrease."
We at The Healthy Mummy believe that the best thing to put in your grocery trolley is a mixture of fresh and frozen fruit and vegetables.
Don't over buy veggies in case you don't use them and need to chuck them out. Also keep frozen ones on hand, as they are usually pre-cut and easy to throw in dishes, as well as hide in food for your picky eaters.
Pros and cons of fresh veg and fruit:
Often tastes better

Has a better texture

If picked from the garden, they have a lot of vitamins and nutrients

They have to be thrown out if not used after a week
Pros and cons of frozen veg and fruit:
They contain more nutrients than fresh store-bought

They last months

We can buy food that is out of season

Can be soggy after defrosting
Join the 28 Day Weight Loss Challenge to access these and thousands more recipes.

The only program made for Busy Mums! Make 2020 Your Year!
Join over 200,000+ mums today! No lock in contracts. Designed just for mums
Get unrestricted access to :
● Over 350 AT HOME WORKOUTS
● Nutritionist designed weekly meal plans
● Personal Trainer crafted at-home workouts
● Daily Motivation from My Coach
● Personalised Shopping lists to make life easy
● Over 4,000 healthy and delicious recipes at your fingertips
● We WILL help you SMASH your 2020 goals and give you MORE energy and body confidence
Take Part in The Healthy Mummy 28 Day Weight Loss Challenge now!