Mom overcomes health issues to rock the stage at bodybuilding bikini comp
INSPIRING Healthy Mommy, Brooke Cotter, has overcome many health issues to make her dream of taking part in a BODYBUILDING bikini competition, come true. And boy did she rock that stage like a true professional!
Proving that when you put in the hard work and commit to achieving your goals, anything is possible.
Brooke shares her journey from regular mom battling a plethora of health issues to becoming a bodybuilding bikini goddess below.
Starting her Healthy Mommy journey
Mom-of-2 Brooke Cotter started her Healthy Mommy journey in January 2017 by following the free Healthy Mommy recipes .
Her weight at the time was 180 pounds.
She says "Little did I know where my journey would take me or how far I would get."
Overcoming medical issues to achieve dreams
It is easy to look at Brooke's photos and think her life and health is picture perfect but Brooke has faced more obstacles than most.
She says "I'm a mom of 2 boys and I've had 6 miscarriages, I study at university and I also have a heap of medical conditions.
Some of the medical issues I have is Ehlers-Danlos syndrome, hashimoto's (hypothyroidism), perimenopause, endometriosis, meniere's disease, hearing loss (I'm over 50% deaf), and mental health issues (PTSD, DID, anxiety and depression).
Yes, this amazing mom has never let her health complications be an excuse for not achieving her health and fitness goals.
Getting started with weight lifting
In January 2018 Brooke started weight lifting and combined with eating the delicious Healthy Mommy meals she began to lose weight. After achieving her goal weight of 132 pounds she decided she wanted to take her fitness journey even further.
New goal – compete in bodybuilding bikini competition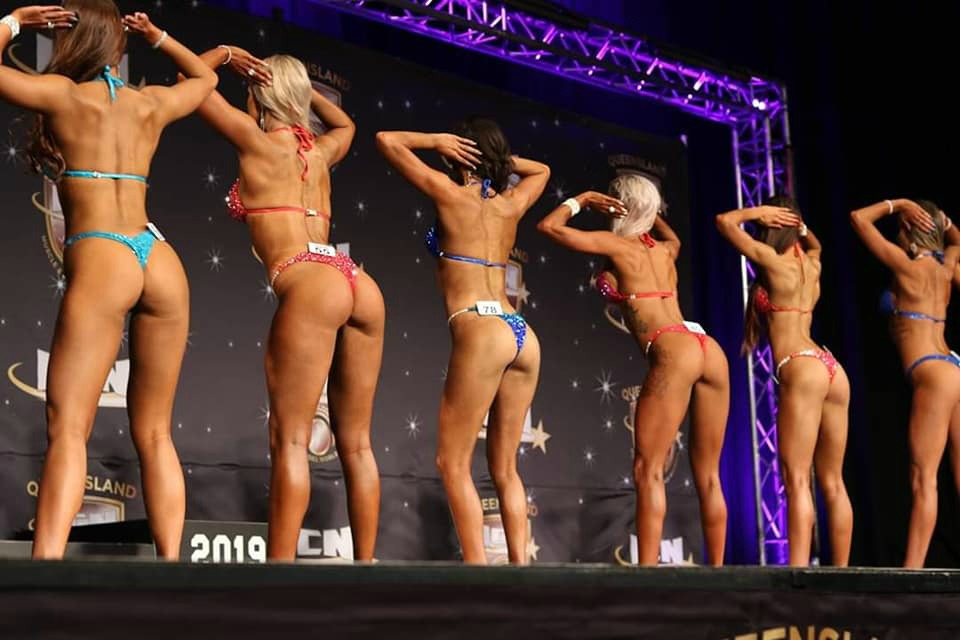 After chatting with her personal trainer about setting new goals her trainer suggested that maybe she should think about competing in a bodybuilding bikini competition.
The conversation sparked immediate interest for goal-seeker Brooke and she started planning how she would make that happen.
Brooke says, "I then had a new goal to hit and focus my fitness on."
She changed her personal trainer to a coach who specialized in preparing athletes specifically for bodybuilding bikini competitions; providing specific nutrition guidance and posing lessons. And like a true warrior, she got to work.
Don't try this at home.
There is no denying that her preparation was grueling and in order to get competition-ready she had to follow a very restrictive diet.
Brooke advises other moms not to try this unless, like her, they are preparing for a competition and have a coach who is monitoring them and their health every step of the way.
As a result of her very specific diet leading up to the event, Brooke says, "During my prep for my competition I wasn't able to use the free Healthy Mommy recipes but I did use The Healthy Mommy Super Greens supplement (available in Australia) until the day I stepped on stage."
Bodybuilding bikini competition ready!
On the 22nd September 2019, and weighing 109 pounds Brooke stepped on stage for her very FIRST bodybuilding bikini competition looking every bit a seasoned professional.
Being her first competition however Brooke says, "stage fright got the best of me but I improved so much the more I stepped on stage."
Although Brooke didn't place she did receive medals and says, "I had a ball and cannot wait to do another competition." And it's that positive attitude and can-do determination that we love.
As a member of The Healthy Mommy community and Facebook Support Group Brooke says "I have met some amazing Healthy Mommy moms throughout Australia, who I have become very close with."
And that HUGE community of moms meant there have been many moms cheering Brooke along every step of your journey. With comments like:
Antoinette said "There are many truly unsung heroes out there who are never recognised. People like yourself should be heard. You are such a great model for people who think they cannot achieve their goal. All I can say is well done – you have so many mountains to climb but you sledge hammered them to achieve your goals after all the adversities you had to challenge. You should be do proud of what you have achieved."
Nataria said "You are an inspiration Brooke. Keep sharing your journey"
Donna said "I think it takes a lot of mental and physical strength and dedication to do what you have done, just amazing. Well done!"
Now that the competition is over Brooke has returned to a more well-rounded Healthy Mommy approach to eating, but that was not before she got to enjoy a much deserved post competition doughnut! Everything in moderation, right!.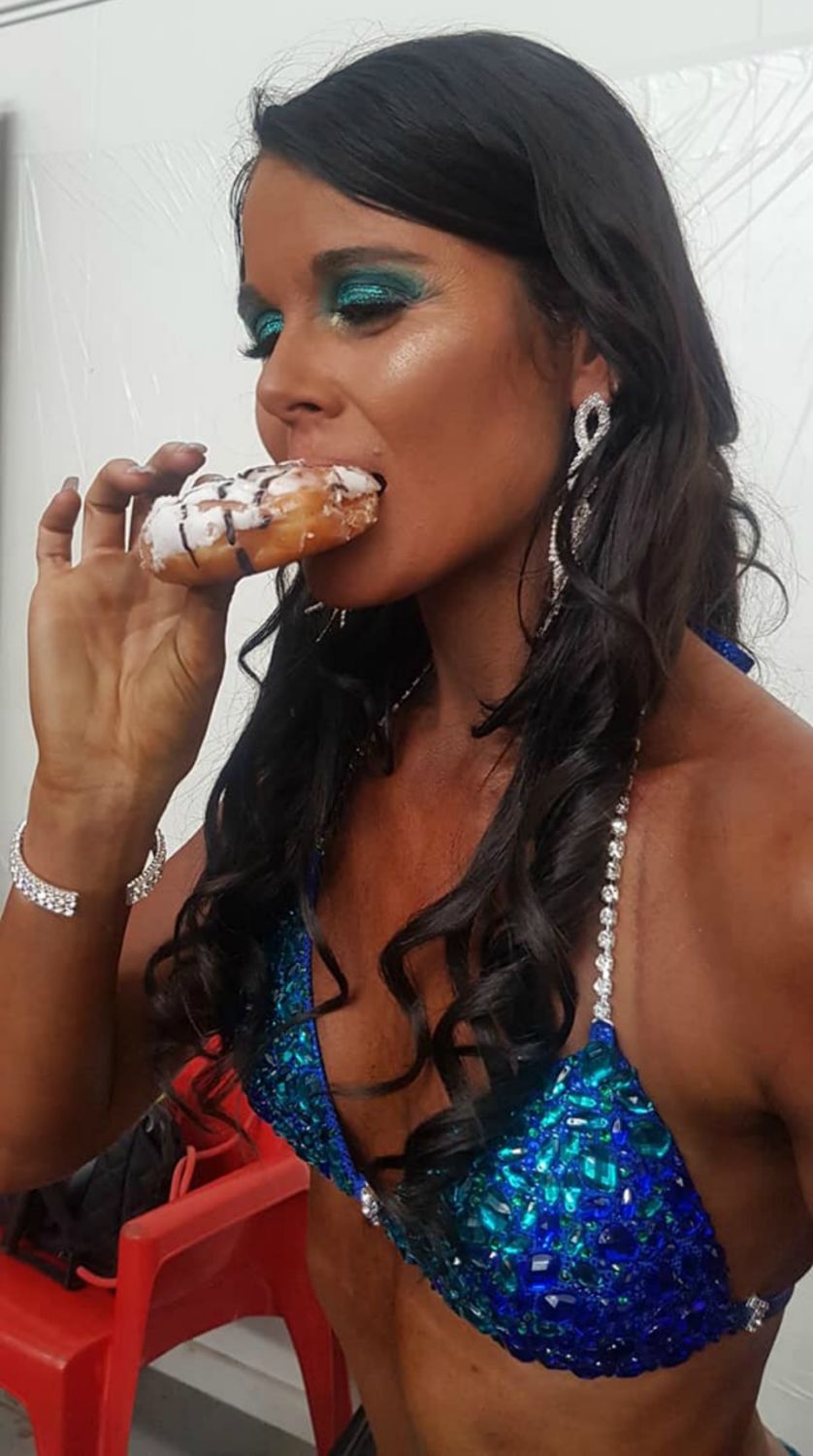 The Healthy Mommy team would like to thank Brooke for sharing her story with us and congratulate her on achieving her dream of taking part in the bodybuilding bikini competition.
She proves that no matter what you have been through and what you may be battling, anything is possible with a little hard work and determination. Way to go Brooke!
We can't wait to cheer her on during her next competition.
Are you ready to kick-start your weight loss?
If you are interested in kickstarting your weight loss and want to improve your energy – not to mention – improve your overall health and wellbeing – our 28 Day Weight Loss Challenge is an awesome program to check out.
Our 28 Day Weight Loss Challenge includes:
28 days of at home exercise routines (no gym needed) – with video instruction
Customisable and breastfeeding friendly meal plans (including a 7 day cleanse)
Time-efficient exercises for busy mums – under 30 mins
Challenge combines Pilates exercises with interval and circuit training (HIIT)
Suitable for basic to advanced fitness levels
Home to thousands of EASY-TO-MAKE recipes!
To learn more about our 28 DAY WEIGHT LOSS CHALLENGE CLICK HERE