"I knew I had to change something otherwise I might die!" Says mom who has lost 57 lbs
Healthy Mommy mom Fiona Mortimer's 57 lb weight loss and commitment to live a healthier life might just have SAVED her LIFE.
Seeing the fear in her children's eyes after she collapsed and was carted off to hospital in an ambulance, was the devastating moment Fiona knew she had to make a HUGE change.
And that she did. Read how she lost weight and became the happy, healthy, body confident mom she is today.
At 47 years old, mom Fiona is living proof of what fueling your body with well balanced nutritious food can do for your health.
She was one of 7 INSPIRING moms to be invited to take part in The Healthy Mommy BODY CONFIDENCE photo shoot in Sydney.
This was the first of three shoots across the globe – others in New York and London. All aimed at uniting moms who are living their best and healthiest lives to be BODY CONFIDENT.
The moment I knew I had to change
Fiona started her Healthy Mommy lifestyle in October 2018 after experiencing heart issues and being taken to emergency via ambulance.
She says "Seeing the fear in my teenage children's eyes was the turning point. It scared me to death!"
Fearing for her life and determined to never be in that situation again, Fiona decided it was time to change.
Fueling her body with good nutritious food
After coming across The Healthy Mommy and seeing all the success of real moms losing real weight Fiona knew it could help her too.
With access to hundreds of healthy and nutritious meals and an online support group, Fiona began to make changes.
Now fueling her body with healthy versions of the meals she used to enjoy, and upping her exercise the weight began to fall off.
Weight loss results – 57 lbs in 8 months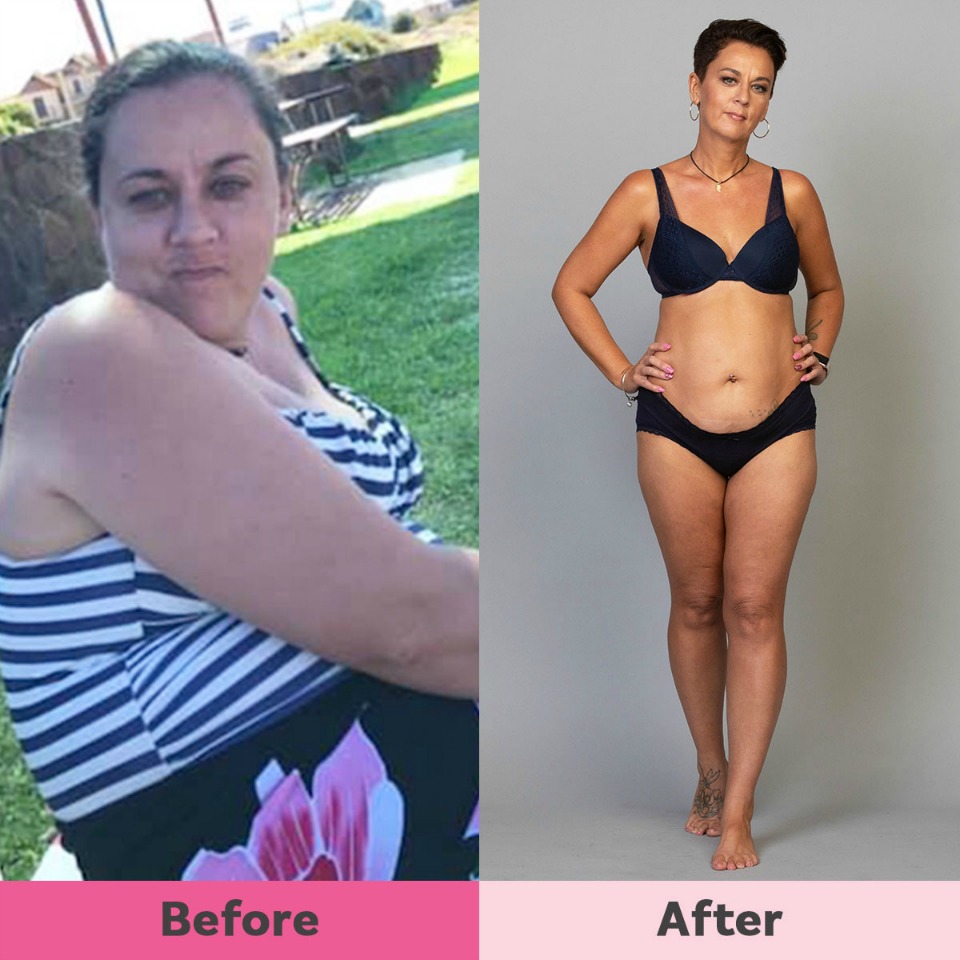 Fiona has lost 57 lbs (down from 190 lbs to 132 lbs in just 8 months) and a massive 46 inches from her hips, thighs, waist, chest and arms.
While these changes are clear for all to see, achieving such significant weight loss in such a short time has taken Fiona longer to come to terms with.
She says she still sees the bigger girl and it will take time to get her head around the changes, but knows the body confidence shoot will help.
Heart issues gone
After recent check ups with her doctor Fiona is excited to share that her heart issues are gone and her doctor is very impressed with her results.
She says "He has given me the all clear on all my blood results.
I've even managed to improve my low iron and vitamin D to normal range.
I'm so thrilled and grateful to Healthy Mommy for changing my life and health."
My new addiction
According to Fiona The Healthy Mommy is now her new addiction – not chocolate.
She says "The Healthy Mommy has changed my health and my life and I am forever grateful".
Wow! The Healthy Mommy team are so proud of Fiona for turning her life and health around.  At 47 years old, she proves that it is never too late to make a change to live your best and healthiest life.
Are you ready to become a Healthy Mommy?
Want to get results like Lauren? If you are wanting to lose weight and improve your energy – not to mention – help improve your overall health and wellbeing – our 28 Day Weight Loss Challenge is an awesome program to check out.
Our 28 Day Weight Loss Challenge includes:
28 days of at home exercise routines (no gym needed) – with video instruction
Customizable and breastfeeding friendly meal plans (including 7 Day Cleanse)
Time-efficient exercises for busy moms – under 30 mins
Challenge combines Pilates exercises with interval and circuit training (HIIT)
Suitable for basic to advanced fitness levels
Home to thousands of EASY-TO-MAKE recipes!
To learn more about our 28 DAY WEIGHT LOSS CHALLENGE CLICK HERE.