Over half of moms admit they feel TOO GUILTY to EXERCISE, study finds
Most moms can't even go to the bathroom without an audience, so finding spare time to stick to an exercise regime can seem like an impossible task!
But even if you were to make time, a new survey has worryingly found that over half of moms reveal they feel too guilty to take time for themselves and exercise.
Study finds moms feel too guilty to work out
Research released by Sport England found that of over 1,000 moms surveyed, as many as six in ten admitted to feeling guilty about taking time out to work out instead of spending it with their family.
56 per cent of moms said their top priority was spending time with their children, 53 per cent said housework was a top priority outside of work and 28 per cent said cooking was a priority for their free time.
Of those surveyed, only one in five prioritize their own exercise!
However, 77 per cent of moms admitted they wanted to do more exercise and 21 per cent said the cost of keeping fit was a reason why they were unable to stay active.
"This research gives moms a really powerful message about the importance of self-care," says psychologist Emma Kenny.
"As a mom, you may believe that looking after everyone else's needs is your main priority, but the truth is that you need to take care of yourself first and foremost, because that ensures you have the energy to look after those you love.
"The best thing about being a healthy and active mom is how it translates to your children.
"Research shows that active moms have more active kids, and that makes for a healthier family, and a fitter future, something every parent wants for their children."
The good news is, busy moms CAN find time to exercise and they don't have to encroach on precious family time!
7 ways busy moms can find time to exercise WITHOUT feeling guilty
1. Start early
Try getting up before the children get out of bed. While it may seem like you may be tired doing it this way, you'll actually find you have more energy!
2. Schedule
Like most things in our lives, the best way to ensure exercise is to schedule it in each week.
Put it in your calendar at the beginning of each week, choose your workout of choice and then just do it. No excuses!
3. Involve the kids
If you can't get away from the kids to work out in peace, then include them. Babies can be used as the perfect weight to squat with.
Strap your baby to your back and climb the stairs. Run with your toddler in the pram. Have your toddler hold on to your shoulders while you breast stroke through your laps! There are HEAPS ways to make this work.
4. Utilize the creche
Whether this is at your local gym or finding a trainer who includes the kids in their program, or mom and bubs classes that provide babysitting services – use them!
5. Try a two-minute workout
Exercising doesn't necessarily have to be in an hour block. It can be two minutes here and two minutes there. Squat while unpacking the dishwasher, lunge in between hanging the washing out.
6. Choose your workout!
You don't have to join a fancy gym, the 28 Day Weight Loss Challenge has SO many exercises that you can do from the comfort of your living room. You could always do them with your kids or while they're napping.
7. Just do it!
It is so easy to make excuses to avoid exercising. But our children should not be our excuse, they should be our reason to live a healthy life.
Study reveals the BEST time of day to exercise to help keep the WEIGHT OFF!
Are you ready to become a Healthy Mommy?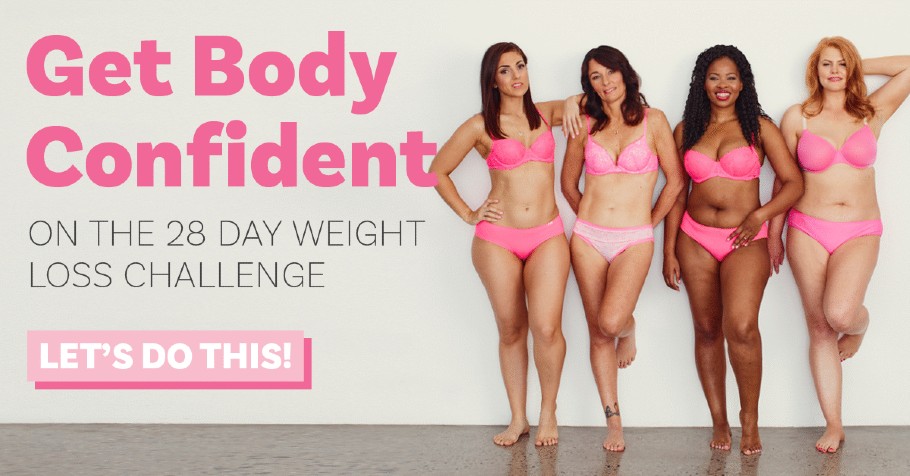 If you are wanting to lose weight and improve your energy – not to mention – help improve your overall health and wellbeing – our 28 Day Weight Loss Challenge is an awesome program to check out.
Our 28 Day Weight Loss Challenge includes:
28 days of at home exercise routines (no gym needed) – with video instruction
Customizable and breastfeeding friendly meal plans (including 7 Day Cleanse)
Time-efficient exercises for busy moms
Challenge combines Pilates exercises with interval and circuit training (HIIT)
Suitable for basic to advanced fitness levels
Home to thousands of EASY-TO-MAKE recipes!
To learn more about our 28 DAY WEIGHT LOSS CHALLENGE CLICK HERE
Seven moms share their amazing weight loss transformations
Heidi Reynolds in the AU has lost a MASSIVE 154lbs and learnt to love her body, scars and all!

When Heidi first signed up to the Healthy Mommy 28 Day Weight Loss Challenge two years ago she weighed 297lbs and hated every aspect of her body. Including the scaring all over her body due to 36 operations she had had to remove sweat glands to remedy a skin condition.
She says "I was unhappy, I hated myself and in turn I hated the world".
Inspired by the amazing results from everyday moms just like her she decided to give the Healthy Mommy Challenge and free recipes a go and started walking twice a day. She says "I lost 13lbs and was feeling amazing and found a love for good healthy food I had never eaten before".
Over the next 12 months she lost a further 143lbs and completely changed her life. She says "I went from a life I didn't want to be in, to a life I LOVE being in!"
After maintaining her weight for the past 6 months she is focused on toning her body by following the exercises on the Challenge App.
She says "I really can't put into words how much The Healthy Mommy has helped me change the way I think about my body.
I'm now so happy and love everything about my body, even the scaring. Thank you Healthy Mommy!"
Read more about Heidi's weight loss journey here.
Tanja Kortsen in the US has lost 88lbs and says her whole family has benefited!
Tanja started The Healthy Mommy 28 Day Weight Loss Challenges over a year ago and says that making social connections through The Healthy Mommy Facebook Community has helped a lot.
She says, "I stick to the recipes and love the Challenge App as it helps me meal plan. My whole family of five joins in with both the exercise and the healthy eating".
Read more about Tanja's weight loss journey here.
Megan Carter's 66lb weight loss helped her overcome depression and gain self worth
Since incorporating The Healthy Mommy lifestyle in her life 8 months ago, Megan has overcome anxiety and depression and is fitter, stronger, healthier and happier.
She says, "I've gotten 'me' back! I give 100% each and every day, no matter what because I deserve to feel amazing, I deserve to have body confidence, I deserve to love myself, I deserve to live a long, active, healthy and happy life".
Read more about Megan's weight loss journey here.
After losing 39lbs Lauren Jones has been maintaining her weight loss for 4 years and couldn't be happier.
Lauren has been on her Healthy Mommy journey for five years!
She says, "It's been the best five years of my life. I'm happier, healthier and continuously kicking new goals every day!"
Read more about Lauren's weight loss journey here.
Fiona Mortimer's 57lbs weight loss has been life saving

Fiona's weight loss was a matter of life and death – literally. Being carted away to hospital in an ambulance due to heart complications was the wake up call Fiona needed to make a dramatic change to her diet and lifestyle.
After losing 57lbs with The Healthy Mommy in just 8 months and looking and feeling fabulous, she has never been happier. And best of all – her heart issues have completely gone! She says "I'm so thrilled and grateful to Healthy Mommy for changing my life and health".
Read more about Fiona's weight loss journey here.
Bec Ashworth has lost 110lbs with help from Healthy Mommy
Bec's Healthy Mommy journey started almost 10 years ago with the Healthy Mommy.
She says, "We have five little people and after every bub I have used  The Healthy Mommy, the last two bubs I was back to normal by week six!"
Read more of Bec Ashworth's story here
Nicole Marnell says she owes the 132lb weight loss and her new life to the Healthy Mommy
Nic found The Healthy Mommy at a dark time in her life after her marriage had ended.
She wasn't looking after herself. But all that changed. She says, "The day I found The Healthy Mommy was the first day of the rest of my life.
The Healthy Mommy is more than just a weight loss program. It's a lifestyle but more than just food and exercise. My mental health is fantastic. My marriage is back on track and better than ever. My kids are happy and best of all we are happy together, being active and healthy. I owe The Healthy Mommy my life". 
Read more about Nic's weight loss journey here.
Are you ready to become a Healthy Mommy?
Our Challenge is designed by moms FOR MOMS – to help them reach their goal weight and tackle their health and fitness.
The Challenge is home to customizable meal plans, 24/7 social support and realistic exercises moms can do AT HOME.
To find out more on the 28 Day Weight Loss Challenge click here.