How these moms keep the whole family happy every mealtime with The Healthy Mommy App
The Healthy Mommy App has transformed mealtimes for families all over the country.
Home to the 28 Day Weight Loss Challenge, the Healthy Mommy App is designed to help busy moms take control over their health and weight loss goals.  With over 4500, healthy, family-friendly recipes you can customise your weekly meal plans to suit the whole family, ensuring dinner times aren't a constant battle.
Why Moms LOVE IT!
The 5 star rated Healthy Mommy App, used by 100,000s of moms across the world, has everything you need to succeed with your journey on the 28 Day Weight Loss Challenge. It's your meal planner, fitness trainer, motivator, calorie and fitness tracker in one awesome app.
But it's how the App organises mealtimes that have moms saying, they can't live without it!!
It has changed the lives of these Moms – Find out why!
Lauren has two kids and loves that the recipe and meal plans are flexible.
Lauren says "I've been with Healthy Mommy for just over three years. In that time I've lost over 44lbs.
I gave myself one month to see if the meal plans could work for me and my young family. Three years later we have so many family favorites. From Healthier Hot dogs to the creamy bacon ravioli or the porcupine meatballs – I'm able to keep all the family happy with Healthy Mommy."

"I love that both the recipes and meal plans are flexible and I can easily make adjustments for family and personal preferences – or to work with ingredients I have on hand.

As a working mom – I absolutely love the variety the meal plans offer me. A few quick swaps here or there; and I not only have a meal plan ready to go – but my shopping list is ready and adjusted to the serving sizes and ingredients. I couldn't ask for a better time and money saver!

Pizza. Cake. Chocolate. Pasta. It's all here most definitely ON the menu with Healthy Mommy. There's no extreme calorie restriction or foods on the naughty list. This is a lifestyle change and learning new habits. But that doesn't mean you have to leave all your favorite things behind!"
Mom of two Bridget says the Healthy Mummy App was a "game-changer."
Bridget says "I have been following the Healthy Mommy for five years and the inclusion of the Healthy Mommy App with all the recipes and shopping lists was a game-changer for me and really made me fall more in love with the 28 Day Weight Loss Challenges.
It has allowed me access to my menu 24/7 and makes it so easy to adapt and change the week's challenge menu to suit your needs for that day or week. I love how simple the shopping list is to follow and saves me time which is so important as a working mom. The recipes are so well set out and easy to search for and follow, even easier enough for my husband to follow.
So many favourites in the recipes but my quick go-to are always San Choy bow and Mexican Lasagna, with Healthy Weetbix Slice to follow."

So How Does The Healthy Mommy App Help Meal Times?
Planning
In the palm of your hand, you have a nutritionist creating you a weekly healthy and family-friendly meal plan, that is fully customizable from over 4500 recipes. The meal plan covers all your main meals and snacks.

Organising
The App generates a personalised shopping list, making organising and budgeting for groceries a much easier process.
Prepping
All the meals and snacks are ideal to meal prep on the weekend, to ensure weeknights are less chaotic.
Enjoying
Knowing what you're all having for dinner, or even having it prepped ready to go, and being able to answer the dreaded question, 'MOM! What's for dinner?' means that dinner times are easy, even enjoyable!
Tracking
The Healthy Mommy App, helps you track your meals, snacks and therefore calories, so you can be in control and stay on top of your weight loss goals.
It's no wonder Moms LOVE IT!
Rebecca has two kids and says The App has been key to her weight loss success.

Rebecca says, "I have lost 30lbs with the Healthy Mommy plus another 10 I gained during my second pregnancy.  The meal plans, recipe hub, and shopping lists have absolutely been key to my success and are part of my daily life. Having all these amazing recipes at my fingertips is so convenient and the best thing is nothing is off limits! Pasta, chocolate, pizza, and all my favorite foods are in there.
My favorite recipes are Mexican Lasagna and Chocolate Weetbix Slice, so delicious you wouldn't know they're healthy!"
Mom of two Tegan says all the recipes are super quick, super simple, easy to make and taste absolutely amazing!

Tegan says, "I absolutely love the food section in the Healthy Mommy App. With over 4500 recipes it takes the ease out of having to think about what to have for dinner or lunches each day. I love that I can have a variety of different foods and that I can customise each day to suit what we eat and to suit my budget and that it's not just a set meal plan.
I love having the meal plan as it helps to keep me on track during the day and means I'm not left wondering what to cook for dinner. The recipes are all so super quick, super simple, and easy to make, and taste absolutely amazing.
The food section of the app has helped me during my journey over the last three years. It is literally like my best friend in my pocket. I also really love that the shopping list has all the ingredients broken up into sections so I'm not running all over the supermarket missing things and it's easy to follow."
Danielle has 3 kids and says she can't live without the App
Daniella says "I started my journey with Healthy Mommy three years ago after the birth of my 2nd child!  I started out with just the meal plans.

The Healthy Mommy has helped me lose 44lbss and maintain a healthy pregnancy with my third child. I wouldn't be able to live without the Healthy Mommy App, just having the meal plan, shopping list and recipes at the touch of a finger is perfect for a busy mum of three. 

Healthy Mommy helps me on my journey with learning to balance and try new recipes, but the simplicity of the recipes helps too. My favorite recipe would have to be the Vanilla Slice. This is my secret indulgence."
Would you like Access to this amazing App and change mealtimes in your house?! Join the 28 Day Weight Loss Challenge!
Our 28 Day Weight Loss Challenge is a family-friendly, breastfeeding-safe program designed FOR MOMS to help them tackle their health and lose the baby weight.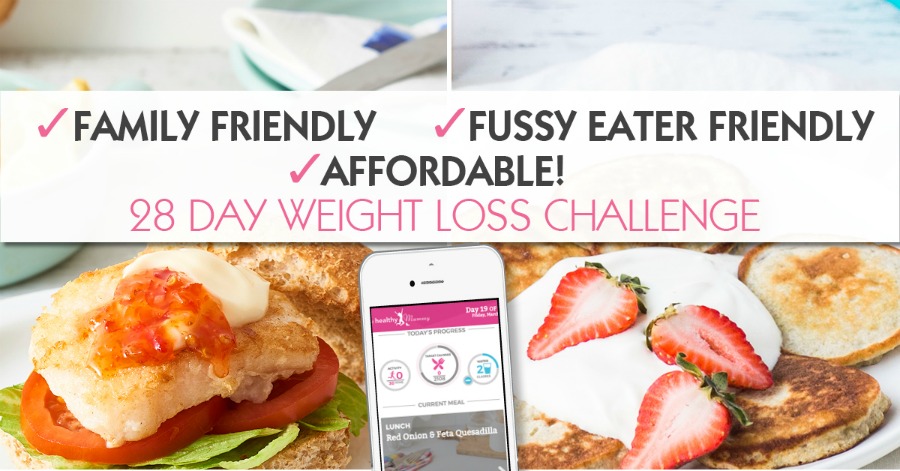 Every week you are given a different meal plan to follow and each month we add NEW recipes to our Challenge Recipe Hub. That way, you'll never get bored and stay on weight loss track while digging into healthy, yummy recipes. Learn more about our 28 Day Weight Loss Challenge HERE.