Moms share their 'Easy' MEAL PREP for achieving weight loss success
With the kick off of another 28 Day Weight Loss Challenge Healthy Mommy moms have been busy in their kitchens getting their meal prep done.
Some moms have chosen to keep it QUICK and EASY by preparing just a few snacks, while others have prepared several meals.
It doesn't really matter which approach you take to meal prep, having any quantity of healthy meals or snacks on hand will serve you well when it comes to sticking to a healthy eating regime and achieving the weight loss results you desire. Let's see what our moms have been preparing.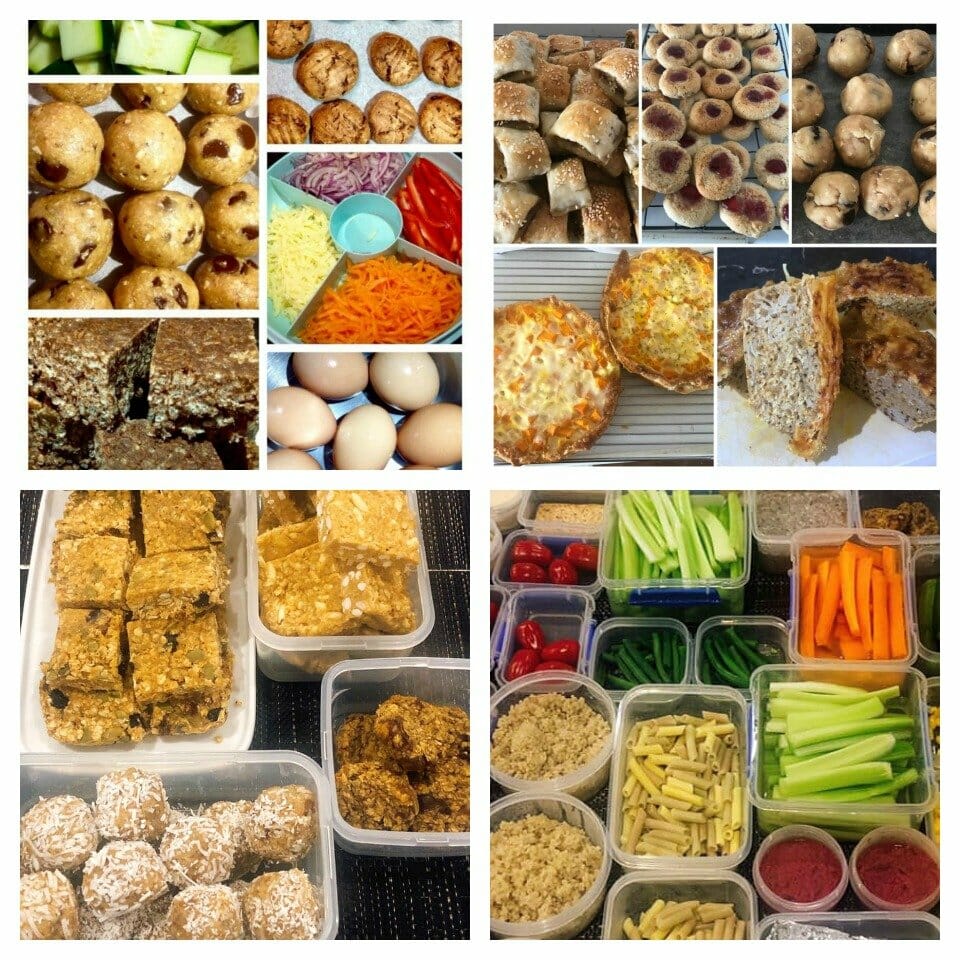 Meal prep can be easy when you know-how. So how about giving it a go?
Follow some of the suggestions below from our Healthy Mommy 28 Day Weight Loss Challenge moms for keeping it simple.
Louise Cook says "Feeling in control and loving it"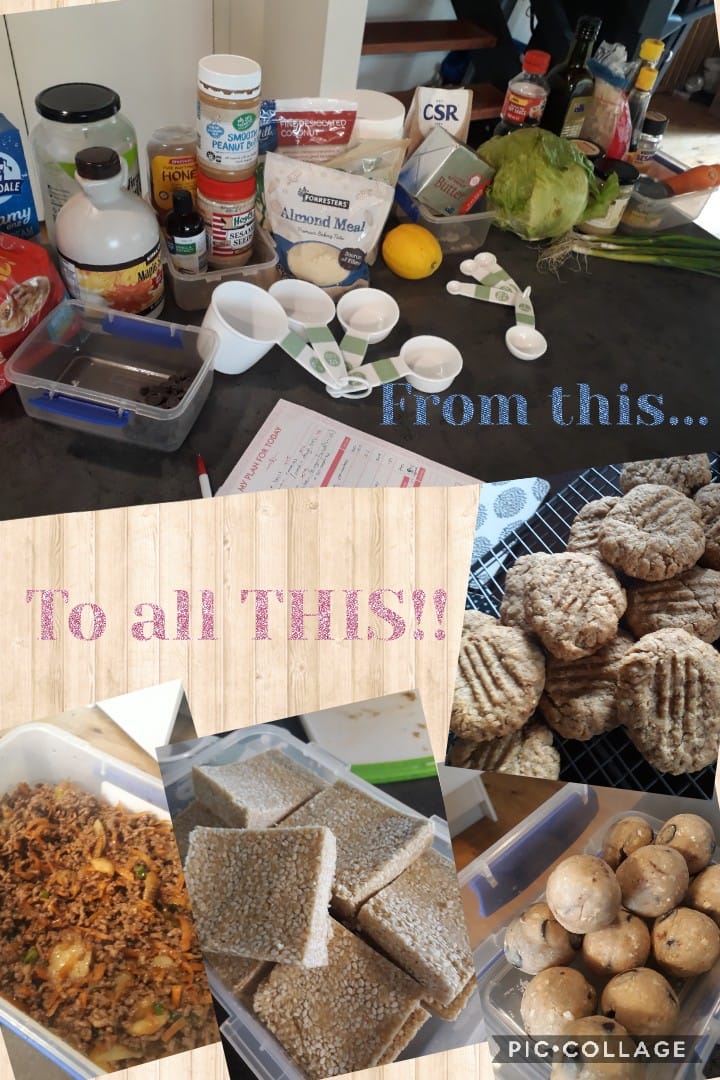 Louise Cook says "Getting it done!
Got us some sweet snacks for the week ahead!
As I'm home for the first half of the week I like to portion and prep most parts of the mains today (weigh & cut chicken etc ) and cook fresh each night, and then do a "mini cookup" on Wednesday to get me through the last half.
Today I smashed out:
12 x Cookie Dough Balls

 

15 x Homemade Sesame Slice

12 x 5 ingredient Lemon Chia Cookies

Get a similar free recipe

4 x San Choy Bao

Get the free recipe

Sliced veggie sticks

Cut Chicken for burgers/nuggets later in the week
Feeling in control and loving it!".
Jinjamarda Blue says"Super simple meal prep today!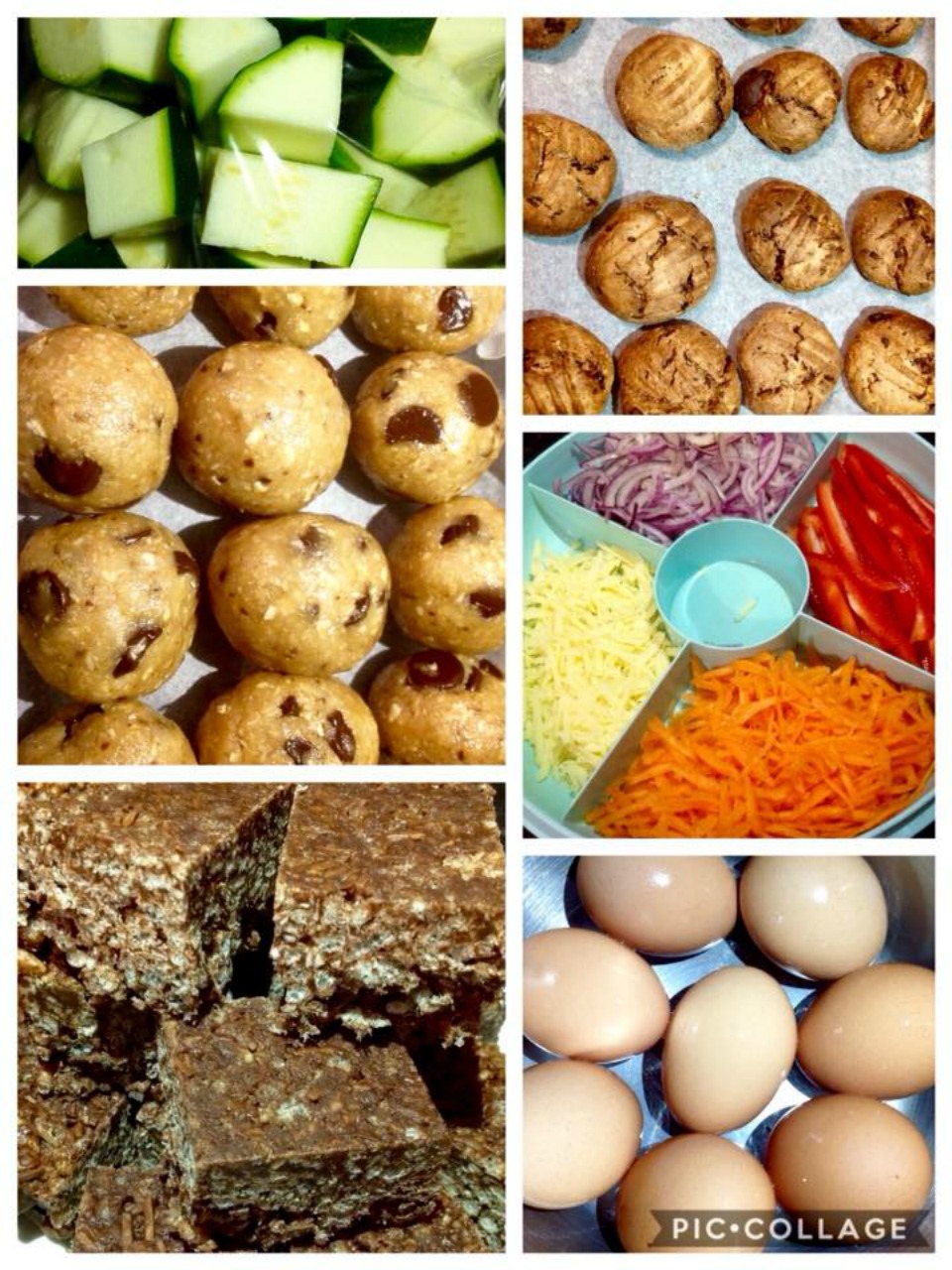 Short on time? Take Jinjamarda's simplified approach to her meal prep.
Jinjamarda Blue says"Super simple meal prep today!!
Eggs boiled for my snacks
Zucchini prepped for my smoothies
Cookie dough bliss balls for my dessert  

Veggie sticks chopped for my snacks

Vanilla and Peanut Butter cookies for the boys to share

Choc mint bubble crunch for them to fight over

 

Salad ready for dinner
On a roll today! I've moved my body, smashed my prep, washing and cleaning is done and I'm ready to take on week one of the 28 Day Challenge!".
*Recipes available to 28 Day Weight Loss Challenge members
Kerrie O'Brien "I kept to tried and tested recipes to make my life easier"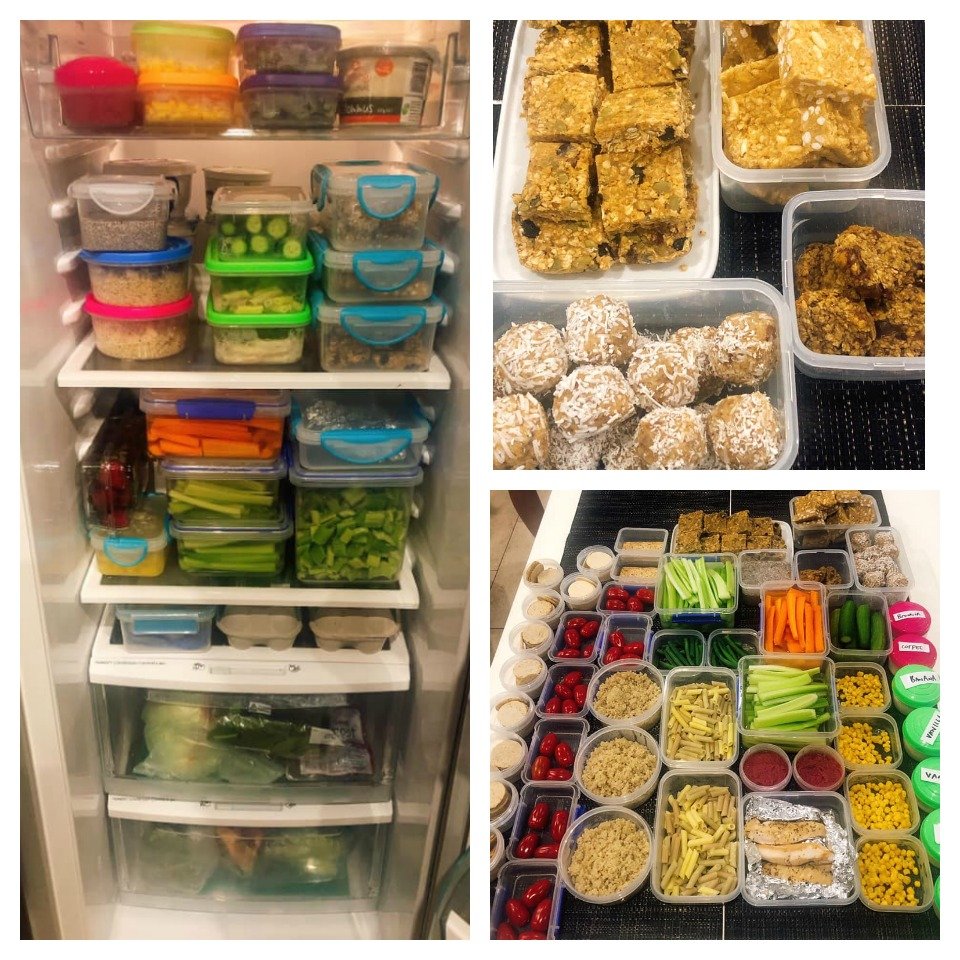 Kerrie says "Thanks to bits done here and there throughout the day it wasn't too stressful.
We have an insanely crazy busy week coming up this week and are going away next weekend too so I have to be super organised or it's going to be hard to stay on track. I kept to mostly tried and tested recipes to make my life easier. This is what made :
16 x No Bake Muesli Bars
16 x Raw Peanut Butter Bars  
16 x Apple Almond Date Balls
6 x Oat Biscuits
2 x Beetroot Mint Cashew Dip
1 x Vanilla Chia Pudding
3 x serves cooked Quinoa
2 x serves cooked Veggie Quinoa Pasta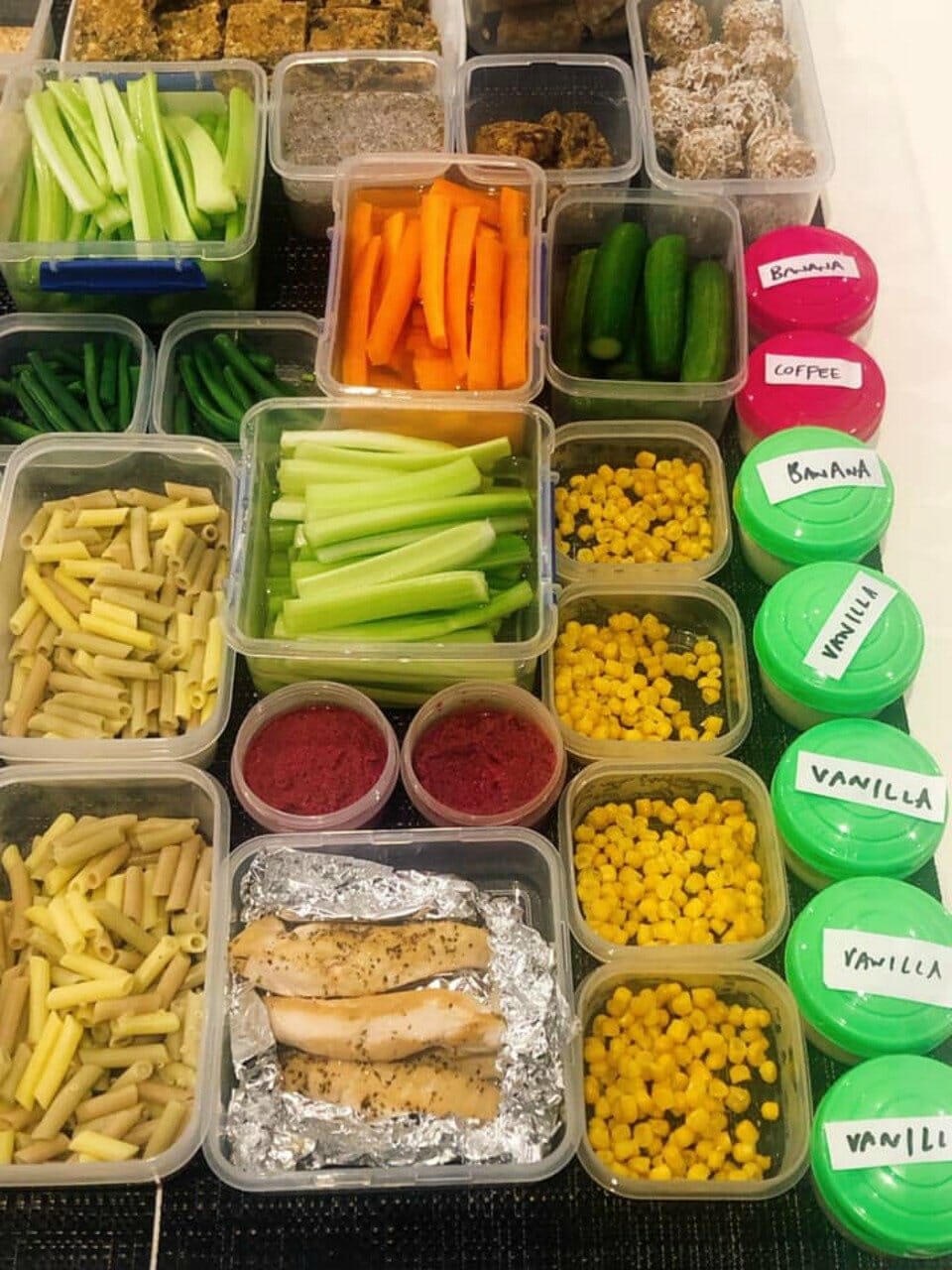 2 x containers chopped celery in water
1 x container chopped carrot sticks in water
1 x container washed baby cucumbers
4 x serves cooked sweetcorn
2 x serves cooked green beans
7 x serves weighed 50g snacking tomatoes
2 x serves Quinoa Crackers
9 x serves Brown Rice Crackers 25 g weighed
2 x serves Whole Grain Crackers ( 5 Crackers)
3 x hard boiled eggs
4 x large chicken tenderloins cooked
7 x assorted smoothie powder & oat containers
Apart from the Beetroot Dip & Oat Biscuits which I made on Friday, everything else was done throughout the day today. I also made double serves of some of my sweet snacks so I can freeze to take away with us next weekend.
This looks like a lot but it really wasn't too bad. Lots of simple things added together.
I actually even managed a 1/2 hour rest on the bed, a 90 minute walk and a movie night with the family tonight so a way better than usual Sunday for me! I do have to say my husband and kids did some of my dishes as well to help out, as I did make a bit of a mess".
Kimberley Calvert "It's as easy or complicated as you make it"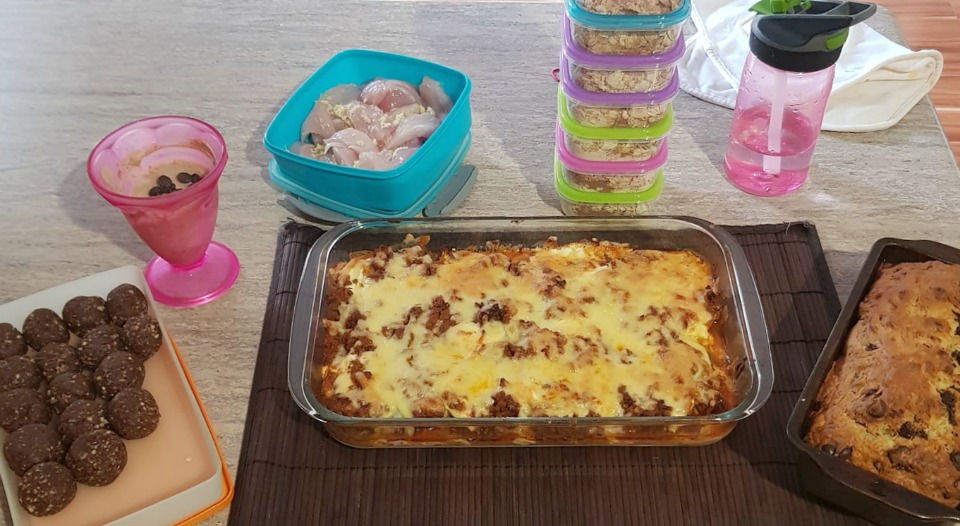 Kimberley says "Meal prep for success!
It's as easy or as complicated as you make it I believe.
Within 60 mins (interrupted with kids!) I prepped:
8 x dry ingredients for fibre full smoothie
1 x choc chip banana bread with miss 5
1 x batch "nutella" bliss balls (A MUST TRY.. DIVINE!)  
1 x low carb lasagne for dinner….whilst prepping cut up extra zucchini for smoothies to freeze and used leftover ricotta to make a snickers moose for dessert
And cut chicken up and got marinating in ginger for tomorrow nights ginger chicken stirfry"
Kate Grimmell "Prepping for success"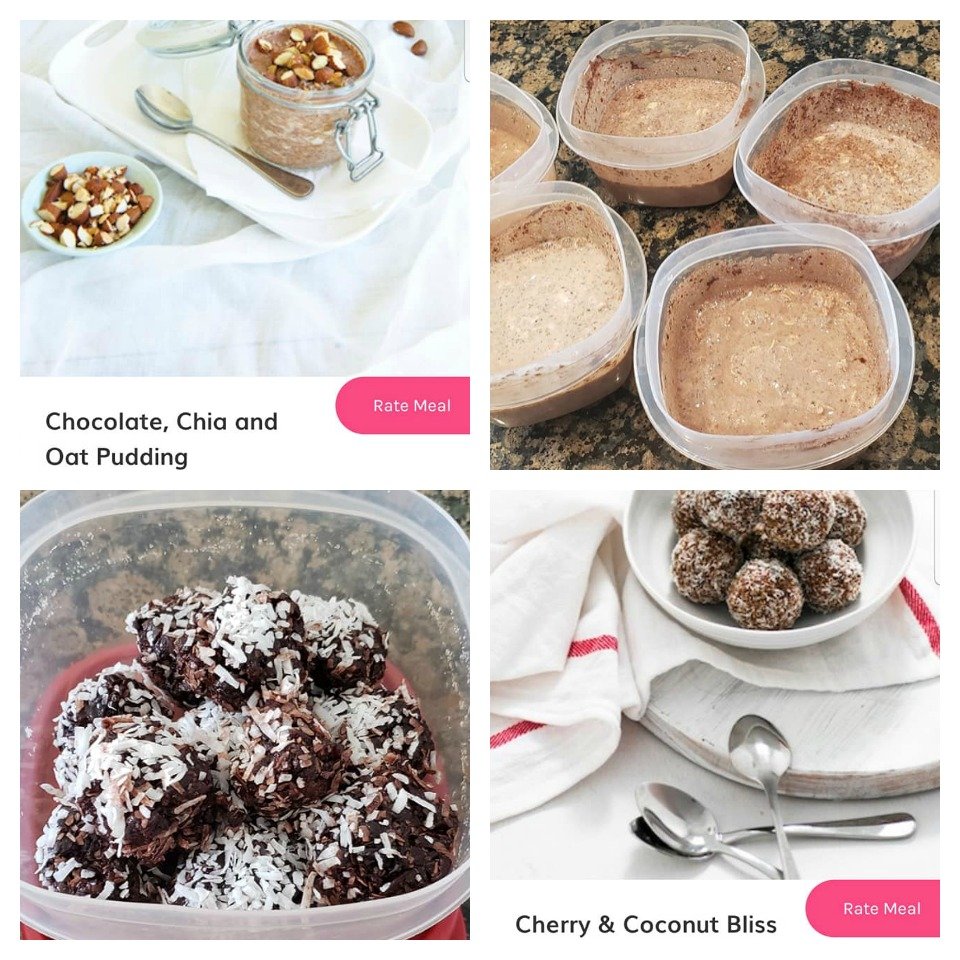 Kate says "Prepping for success. I prepped my breakfast and my morning snacks for the week (evening snack is coming from my freezer stash).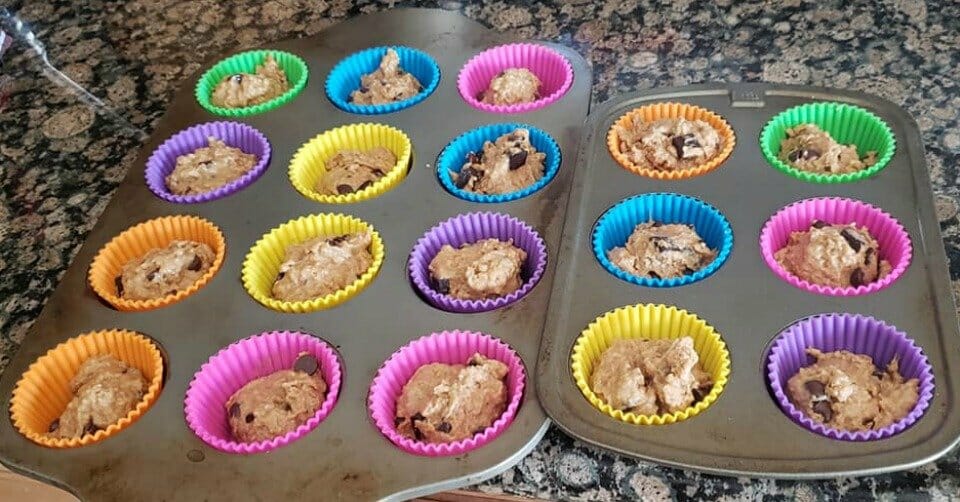 Prepping on Sunday makes me feel very ready to take on the week and eliminates my desire to grab something quick and full of processed junk".
Bec Dunn "Being the school holidays I made lots of snacks"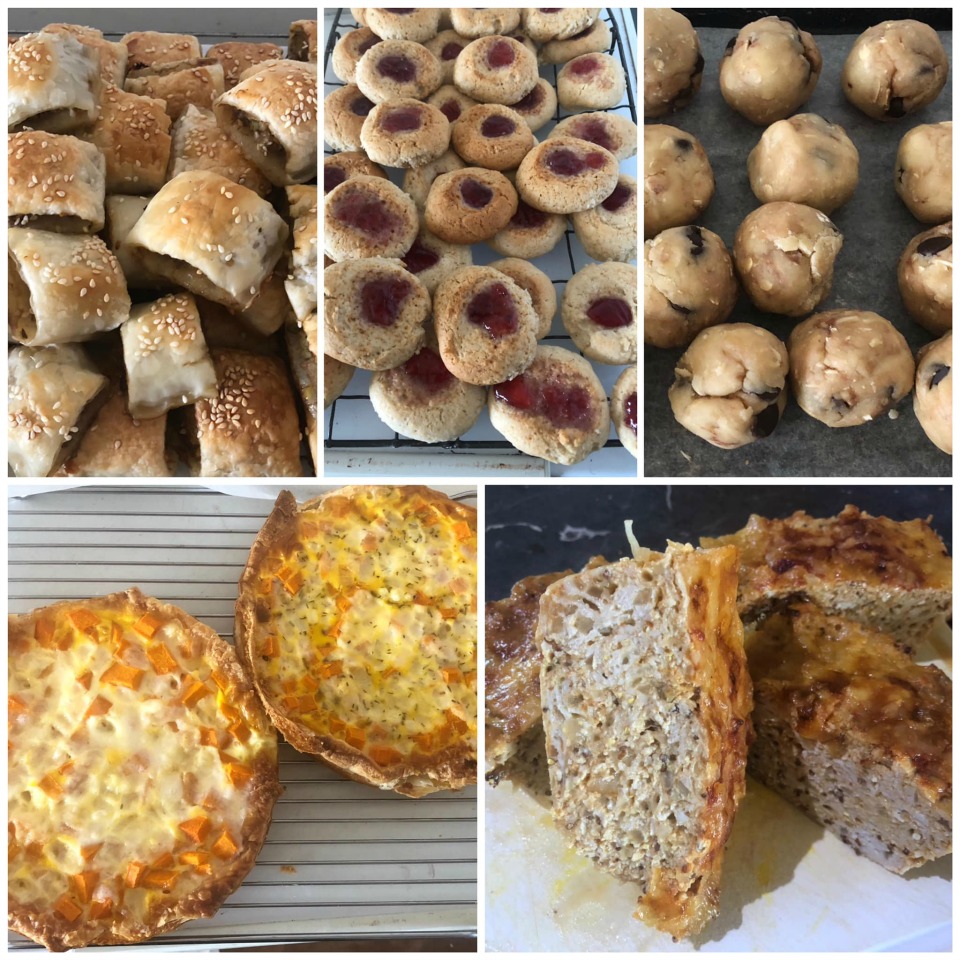 Bec says "Since I had 18 frozen dinners already prepared in my freezer I ended up changing things up a bit. I only made two main meals and being the school holidays, I made lots of snacks!
I made a double batch of Pumpkin & Feta Tart, Cheesy Chicken Meatloaf as my mains.
2 x batches Hidden Veggie Sausage Rolls Get the free recipe
2 x batches Jam Drops
2 x batches of Cookie Dough Bliss Balls 
Jana Coleman "It took me 2 hours including clean up"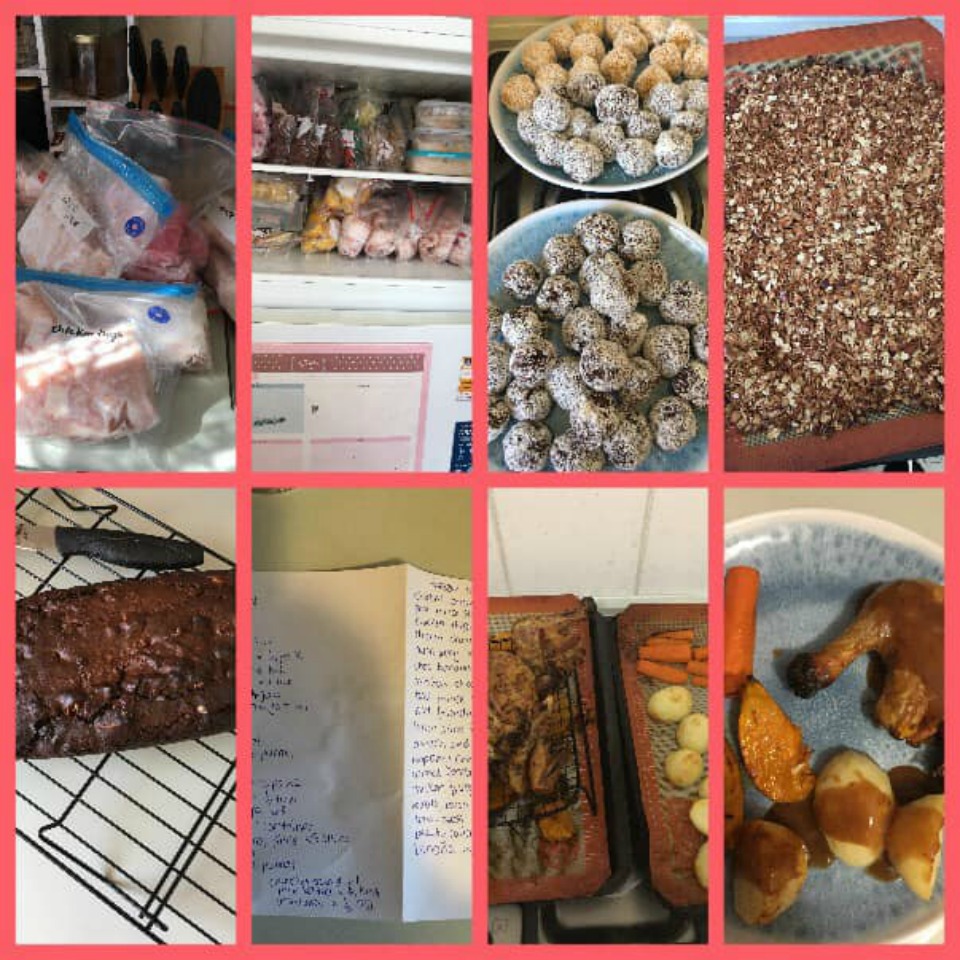 Jana says "My little meal prep effort for today. All of this is mainly for when we go away next week.
I also did a stocktake of my fridge and freezer where I took everything out counted it so I knew what we had and then put back.
I only have a single fridge/ freezer so I can't do huge amounts of meal prep.
From what I already have I will do a blank meal plan for this week so I don't have to shop much and eat what we've already got.
Today I prepped the following
Healthy Mummy choc caramel protein balls x 24
Choc Weetbix balls  
Cinnamon and nut granola x 12 serves
Trail mix
Roast chicken for dinner ( slow cooked for 8 hours and browned in the oven for 30 minutes) more for lunches too
Extra roast pumpkin and potato for salads
Double choc honey maple loaf (over cooked so had to go in the bin)".
Wow! The Healthy Mommy team would like to thank these AMAZING moms from our Healthy Mommy 28 Day Weight Loss Challenge community for sharing their meal prep sessions with us and showing us that meal prep can be EASY and QUICK!
Find all these recipes and thousands more by joining The Healthy Mommy challenge
If you are interested in kickstarting your weight loss and want to improve your energy – not to mention – improve your overall health and wellbeing – our 28 Day Weight Loss Challenge is an awesome program to check out.
Our 28 Day Weight Loss Challenge includes:
28 days of at home exercise routines (no gym needed) – with video instruction
Customisable and breastfeeding friendly meal plans (including a 7 day cleanse)
Time-efficient exercises for busy mums – under 30 mins
Challenge combines Pilates exercises with interval and circuit training (HIIT)
Suitable for basic to advanced fitness levels
Home to thousands of EASY-TO-MAKE recipes!
To learn more about our 28 DAY WEIGHT LOSS CHALLENGE CLICK HERE