See what 66lbs weight loss looks like for 6 different moms
Today we are celebrating 6 INSPIRING moms who have each achieved 66lbs weight loss with The Healthy Mommy 28 Day Weight Loss Challenges.
If you have ever wondered what 66lbs weight loss looks like, this is for you. Just as each of these moms are completely unique, so have been their mental and physical transformations.
What they all share in common however, is their commitment to living a Healthy Mommy lifestyle and an increase in happiness and confidence since losing 66lbs! BIG CONGRATULATIONS to these AMAZING moms below.
The Healthy Mommy program is designed to help moms of all shapes and sizes achieve their weight loss goals and live their happiest and healthiest lives.
Whether you are looking to lose a little or a lot of weight, we can help you. To get started sign up to our 28 Day Weight Loss Challenges.
Here are just a few of our wonderful moms who share 66lbs weight loss results.
1. Bec Lusty
Having thought she was destined to be the 'big' girl all her life Bec has now lost 66lbs and says "I feel amazing. 
I love the food and the 28 Day Weight Loss Challenges and not to mention the support of so many inspiring women.
This has been a lifestyle change for me and I'm not done yet.
I have seriously never felt better in my life."
2. Ashleigh Anning
Ashleigh Anning lost 66lbs in 12 months following The Healthy Mommy 28 Day Weight Loss Challenges.
She says "I am a single mom of two little girls who are fussy and hate trying new things (much like their mother haha).
I've easily been able to adjust my meal plan each week to suit our families needs.
I used to think being healthy was so expensive but with The Healthy Mommy I've learned to meal plan and prep so that I use up all of my ingredients."
3. Skye Knox
Skye lost 66lbs in 11 months following The Healthy Mommy 28 Day Weight Loss Challenges.
She says "I was post knee surgery, a newly single mom, living on anti-anxiety medication and dealing with the issues left from a broken marriage to a drug addict.
I was in a friends wedding and I looked at the photos and couldn't recognise myself.
Nothing would fit and I wasn't happy with my body in any way".
Fast forward 11 months and Skye had lost almost 66lbs!
She says "My mind is free, my health is the best it's ever been, I'm active, loving single mom life and better yet I'm medication free.
The Healthy Mommy has truly saved my life, this programme works and I swear by it!"
3. Andrea Dixon
Andrea says "I've lost 66lbs. As a breastfeeding Momma I use the 28 Day Weight Loss Challenge recipes. 
With four kids, running a business and studying they are a lifesaver as they are quick and easy and taste amazing.
They also ensure that I am having something nutritious which is super important while I am breastfeeding."
4. Hannah Pech
Mom-of-five Hannah Pech has lost a massive 66lbs in just 12 months and couldn't be happier.
She says "I started The Healthy Mommy to better myself. Not for anyone but me.
I've gained so much but what my family has gained is even more.
I hid behind the excuse that I "had 5 kids in 6 years".
Now, 66lbs lighter she says "I now stand with pride and say "I've had 5 kids in 6 years.
Same statement but totally different mindset!".
5. Alicia Whitbread
Pictured here Alicia was just celebrating 66lbs weight loss.  She says "I am PROUD of who I am and finally feeling like my old self again.
I might have lost weight and 4 dress sizes but what I have gained back is MYSELF, my confidence, my pride and that is worth so much more to me".
6. Court Davis
Court says "My fitness journey is never been an easy one it's been plagued by mental health issues and numerous health setbacks.
12 over months ago when I join The Healthy Mommy I never would have dreamt the person I'd be today it ignited a fire in my belly that I never knew I had.
I only ever used to sponsor a gym. I'd sign up to go once and then that'd be it until my contract was up and I'd cancel. Now the gym is a massive part of my life and I'm there five days a week.
Yesterday I completed my biggest transformation to date I set a new PB my deadlifts. I can officially deadlift more than I weigh.
I am 66lbs lighter and a far happier person than I was before.
I'm a new person a better mum and a better wife. If I can do it anybody can."
Congratulations to these mums for all they have achieved already and we will be waiting to see them kick even more goals in the future.
Change your life like these ladies have with our 28 Day Weight Loss Challenge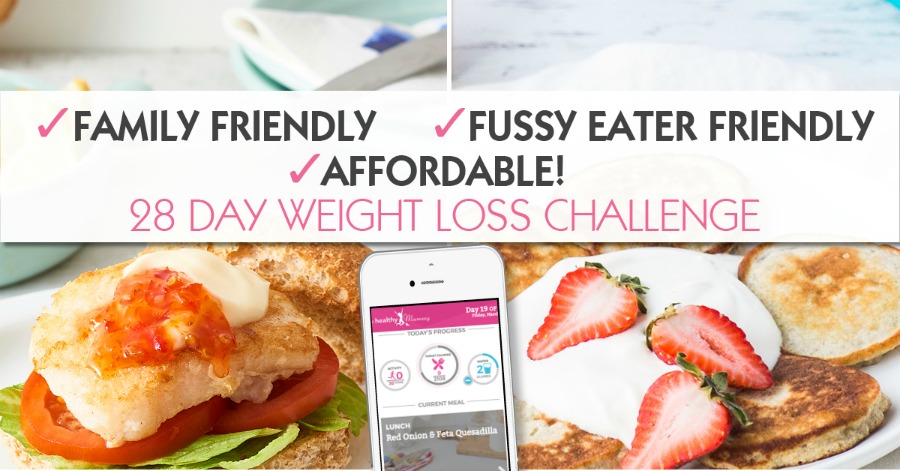 If you are inspired by the transformations of these moms and want to take charge of your own health and weight – then join our 28 Day Weight Loss Challenge TODAY.
With more than 4,000 delicious (and healthy) recipes, 450 exercises & 24/7 support – the 28 Day Weight Loss Challenge is designed (and proven) to help busy mums like you lose weight!