SNEAK PEEK: 7 recipes from our January 28 Day Weight Loss Challenge
If you want to start the new year off by getting your health in check then our January 28 Day Weight Loss Challenge theme is perfect for you.
This January we are starting 2020 off with a bang with our Belly and Booty Blaster Challenge.
Get a sneak peek of some of the delicious, healthy and easy to make recipes that will be available as a part of our next 28 Day Weight Loss Challenge.
7 recipes from our 28 Day Weight Loss Challenge
1. Healthy S'Mores Tart (169 calories)
S'Mores are often a family favorite around a camp fire. This recipe takes them to the next level by turning them into a delicious tart.
Try this recipe today in the 28 Day Weight Loss Challenge recipe hub!
2. Korean Beef Noodles and Kimchi (304 calories)
Kimchi is a fermented cabbage condiment that can be found in most large supermarkets. It is great to improve your gut health and help beat belly bloat.
Try this recipe today in the 28 Day Weight Loss Challenge recipe hub!
3. Oven Baked Chicken Fajitas (407 calories)
An easy-to-prepare Mexican-inspired chicken & vegetable bake, served on tortillas with Greek yogurt. Adjust the amount of chili powder to suit you & your family's tastes.
Ingredients (Makes 4 servings):
1 red bell pepper, thinly sliced
1 red onion, thinly sliced
1 cups mushrooms, sliced
2 cups cauliflower, finely diced
1 lb boneless, skinless chicken thigh, trimmed & diced
1/2 tsp chili powder
1/4 tsp ground cumin
1 tsp smoked paprika
1 tbsp lime zest
1 cloves garlic, minced
1 tbsp extra virgin olive oil
8 small corn tortilla
2 tbsp lime juice
1/4 cup fresh cilantro, chopped
1/3 cup reduced-fat Greek yogurt
Method:
Preheat oven to 375F. Line two baking trays with parchment paper.
Combine pepper, onion, mushrooms, and cauliflower and spread over one tray.
Place the chicken pieces over the second tray.
Combine the chili powder, cumin, paprika, lime zest, garlic, and olive oil to form a marinade.
Coat the vegetables and the chicken evenly with the spicy marinade.
Bake for 35-40 minutes or until the vegetables are tender and chicken is cooked through.
Heat the tortillas as per package directions and fill each one with some of the chicken and some vegetables. Drizzle with a little lime juice and sprinkle with cilantro leaves.
Dollop with a little yogurt and serve 2 fajitas per person.
 4. Vegan BBQ Mushroom Burritos (378 calories)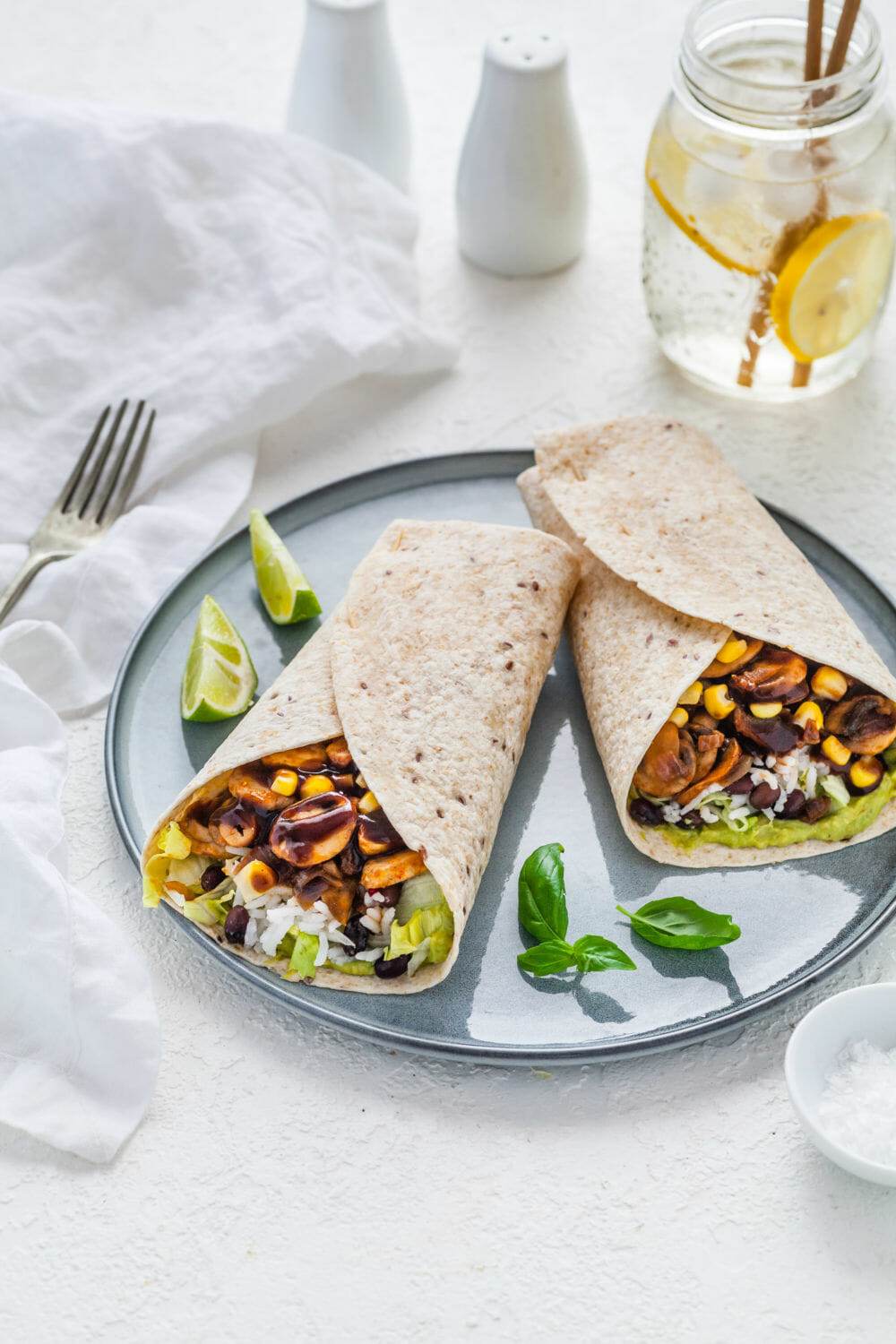 With these tasty Vegan BBQ mushroom burritos you will increase your intake of fibre with the beans which will help beat the belly bloat you are trying to blast.
Try this recipe today in the 28 Day Weight Loss Challenge recipe hub!
5. Vegan Lemon Meringue "Cheesecakes" (189 calories)
"Aquafaba" is the drained liquid from tinned chickpeas that can be used in a similar way to egg whites for vegan recipes. This is a delicious, vegan friendly way to make cheesecakes".
Try this recipe today in the 28 Day Weight Loss Challenge recipe hub!
6. Vegan Mushroom and Bean Burgers (395 calories)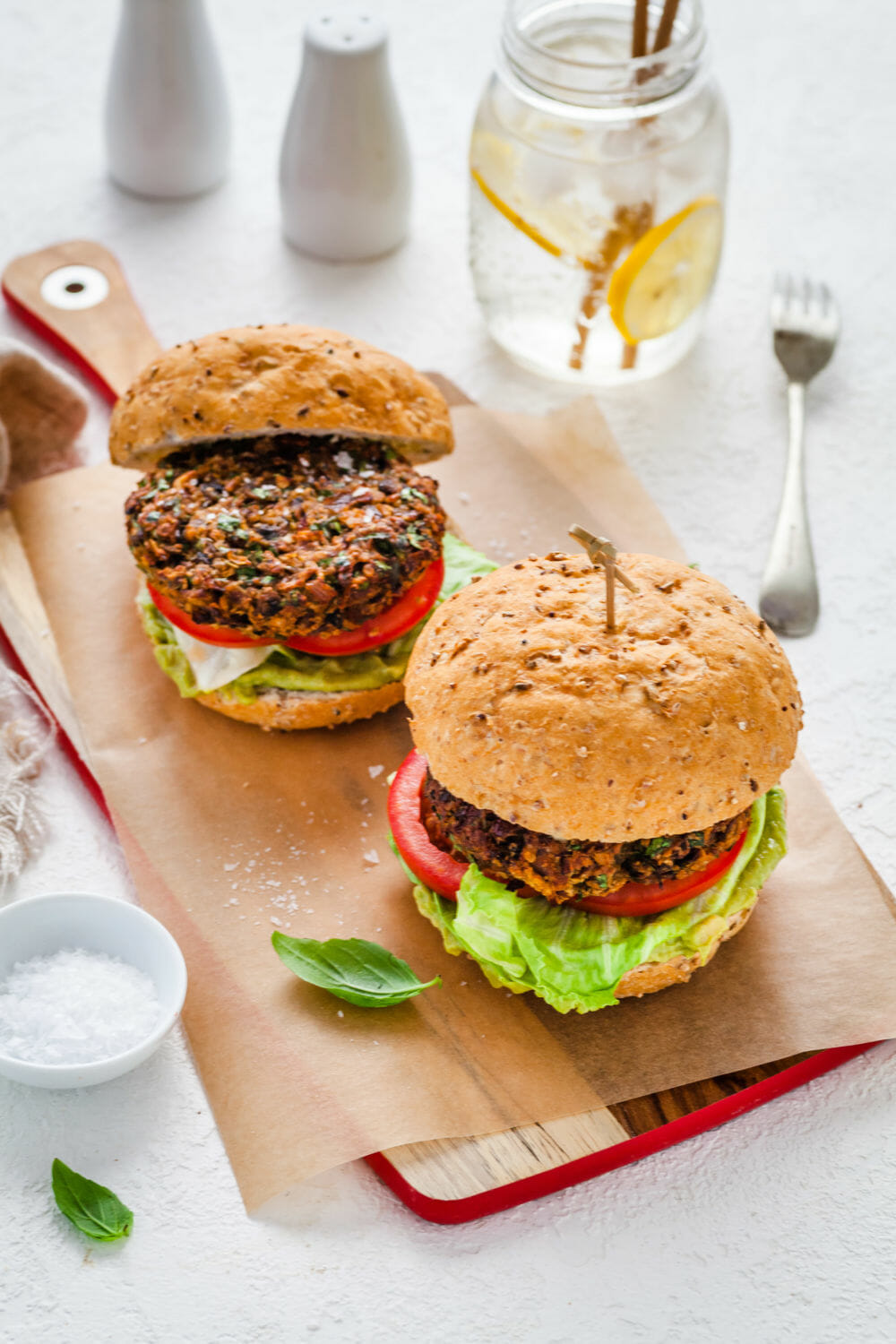 Increasing your fibre intake with legumes, wholegrains and lots of vegetables will make it easier for you to blast belly fat.
Try this recipe today in the 28 Day Weight Loss Challenge recipe hub!
7. Strawberry Sundae Cupcakes (154 calories)
Delicious, family-friendly cupcakes that contain wholegrains and protein to help you blast belly fat.
*Freeze-dried strawberries can usually be found in the dried fruit section of the supermarket.
Ingredients (Makes 12 servings):
1 cup whole wheat flour
1 tsp baking powder
1 tbsp stevia
1 free-range egg
2 tsp vegetable oil
1 tsp vanilla extract
1/3 cup reduced-fat Greek natural yogurt
1/4 cup reduced-fat milk of choice
1/4 cup freeze-dried strawberries
1/2 cup butter, at room temperature
1/2 cup stevia (for icing)
12 strawberries
1.5 oz dark chocolate (70%), grated
Method:
Preheat oven to 375F and lightly grease or line with cases, 12 holes of a cupcake tin.
Combine flour, baking powder, and stevia together in a bowl.
In a separate bowl whisk together egg, oil, vanilla extract, 1⁄4 cup of the yogurt and all the milk.
Add the wet ingredients to the dry and mix together until just combined.
Divide evenly into the prepared cupcake cases and bake for 15-20 minutes, until golden on top and a skewer inserted into the
center comes out clean. Place on a wire rack to cool completely.
Place the freeze-dried strawberries into a food processor and process until a powder is formed. Set aside.
Beat the butter and stevia baking sweetening using an electric mixer for a few minutes until creamy. Add the strawberry
powder and remaining yogurt and beat for another few minutes to combine.
Pipe or spoon the butter icing onto the cooled cupcakes.
Top each cupcake with a fresh strawberry and some grated chocolate to serve.
One cupcake is one serve. Store leftover cupcakes in an airtight container in the fridge for 3-4 days.
Want to kick-start your weight loss and gain access to all these recipes and thousands more?
If you are interested in kickstarting your weight loss and want to improve your energy – not to mention – improve your overall health and wellbeing – our 28 Day Weight Loss Challenge is an awesome program to check out.
Our 28 Day Weight Loss Challenge includes:
28 days of at home exercise routines (no gym needed) – with video instruction
Customisable and breastfeeding friendly meal plans (including a 7 day cleanse)
Time-efficient exercises for busy moms – under 30 mins
Challenge combines Pilates exercises with interval and circuit training (HIIT)
Suitable for basic to advanced fitness levels
Home to thousands of EASY-TO-MAKE recipes!
To learn more about our 28 DAY WEIGHT LOSS CHALLENGE CLICK HERE