Mom says, 'I had all but given up on losing weight, until I discovered The Healthy Mommy'
Stephanie Payne first joined The Healthy Mommy's 28 Day Weight Loss Challenge just over a year ago. She had tried everything and anything before this to lose weight including multiple lap band surgeries and had almost given up hope.
But now she is constantly amazed by how far she has come since she began her journey with The Healthy Mommy, having lost an amazing 91 lbs.
This is her inspiring story
Stephanie has had a very turbulent weight loss journey which has included multiple lap band surgeries, but since discovering The Healthy Mommy she hasn't looked back.
She has learned so much about herself and about food and is now looking forward to the future while also really loving the new person she has become both inside and out.
"In the weeks before I started the 28 Day Weight Loss Challenge, around dinner time, I would have been dragging myself up off the couch to start cooking," she admits.
"I was uncomfortable, my legs were sore and I was tired. I'd existed like that for so many years and didn't for a second imagine that I'd be about to share a post in a group like this before going for a run. I'm training for my 10K mile run! Also, we've all had dinner because I meal prepped!" Stephanie explains.
"If you'd told me this at the beginning, I would have laughed! I know by looking at these photos you miss the blood, sweat, laughter, and tears that have gone into the last 14 months but when I flip back through my social media, I see it all."
"I've made so many amazing memories and I've become healthier along the way. It hasn't been easy, but it's been a pleasure."
"I had all but given up on losing weight as over the years, I had tried everything you can think of to lose it – including having weight loss surgery. I had lap band surgery eight years ago, a few months after I was told I was 536 lbs."
"I was told if I didn't do something I would die. I got down to 364 lbs a year later and needed more surgery when my band slipped which saw me go back up to 464 lbs 18 months later. I still have my lap band but it's not functioning as I require another round of surgery for it to work."
"I never got back on the wagon after this and I hovered between 420 lbs and 460 lbs for years and had come to the conclusion that I was simply destined to be big for the rest of my life and that was how it was going to be."
But luckily this story doesn't end there. "That's when I found the 28 Day Weight Loss Challenge," she says.
Stephanie's Healthy Mommy journey
Since discovering The Healthy Mommy, Stephanie is not only losing the weight she so desperately needs and wants to, she is gaining so much more. "I've lost 91 lbs in the last 13 months and I've learned SO many things along the way," she says.
"In the 10 months since I've been following the 28 Day Weight Loss Challenge I've learned so much. As I lose the pounds, I gain so much more. I'm discovering someone I didn't know existed and I surprise myself every day."
"It sometimes doesn't seem real that I have come so far especially after the struggles I've had but as I sit on the elephant (photo above) at exactly my halfway point between my heaviest weight and my goal weight of 186 lbs, I know more than ever that I'm going to achieve my goals."
Stephanie also loves The Healthy Mommy community. She is so appreciative of the support she receives in the group. "I love the way we all look after one another, it just warms my heart," she says.
With her positive attitude and commitment to the 28 Day Weight Loss Challenge she has lost a WHOPPING 91 lbs, has a new sexy back taking shape and is celebrating a whole lot of personal victories.
"I was 434 lbs when I started. I've lost a total of 182 lbs since I began my weight loss journey all those years ago but in saying that, the weight that I've lost with the 28 Day Weight Loss Challenge has been the most enjoyable, the easiest and one I know I can continue to follow for the rest of my life."
Stephanie's personal victories
We have been following Stephanie's journey since she began the 28 Day Weight Loss Challenge and we know what amazing personal progress she has made and the many obstacles she has overcome.
Stephanie's story of sheer determination to improve her health is very evident. Her changing body shape and how much more positive she feels within herself is what keeps her motivated.
She says "It's amazing what nine months of consistency can achieve. I'm so glad I have photos of myself from all angles. There's a 91 lbs difference here between these pictures and I can see sexy curves." We can see them too Stephanie – well done!
Her first victory? Having to tie a big knot in her shirt that is now too big!
One of her major personal victories is when she recently returned from a cruise. She was able to fly on a plane without the discomfort and embarrassment of the past. Something she previously would've thought twice about doing.
She says, "I flew on a plane (there and back!). Took stairs instead of elevators (willingly). Dressed up for one of the theme nights on the cruise. Wore leggings in front of people and didn't think twice in doing so. Went biking. Laid on the sand not caring how big I looked (or didn't look). Caught the train (and had no shame in sitting on a seat) and I can now rest my foot on my knee when sitting down!"
Stephanie has also achieved and learned so much about herself and what she is actually capable of. She says she has achieved all of this by being consistent, by forming habits, by pushing her limits and believing in herself.
"I've formed new habits, a new appreciation for what I'm capable of and I've learned to be kind to myself when I'm having one of those days," she says.
"I've achieved it by being consistent. This is not a fad, this is not a diet – it's something that I'll be doing for life."
"Yes, I do eat pizza, I do eat chocolate and I do drink wine sometimes, and I don't do without any of the things that I love," Stephanie admits.
"It's about balance, moderation and knowing when to stop. I'm so proud of all I've achieved and please believe me when I say that you can do it as well."
"I couldn't and wouldn't have done any of this before I found The Healthy Mommy!" she says.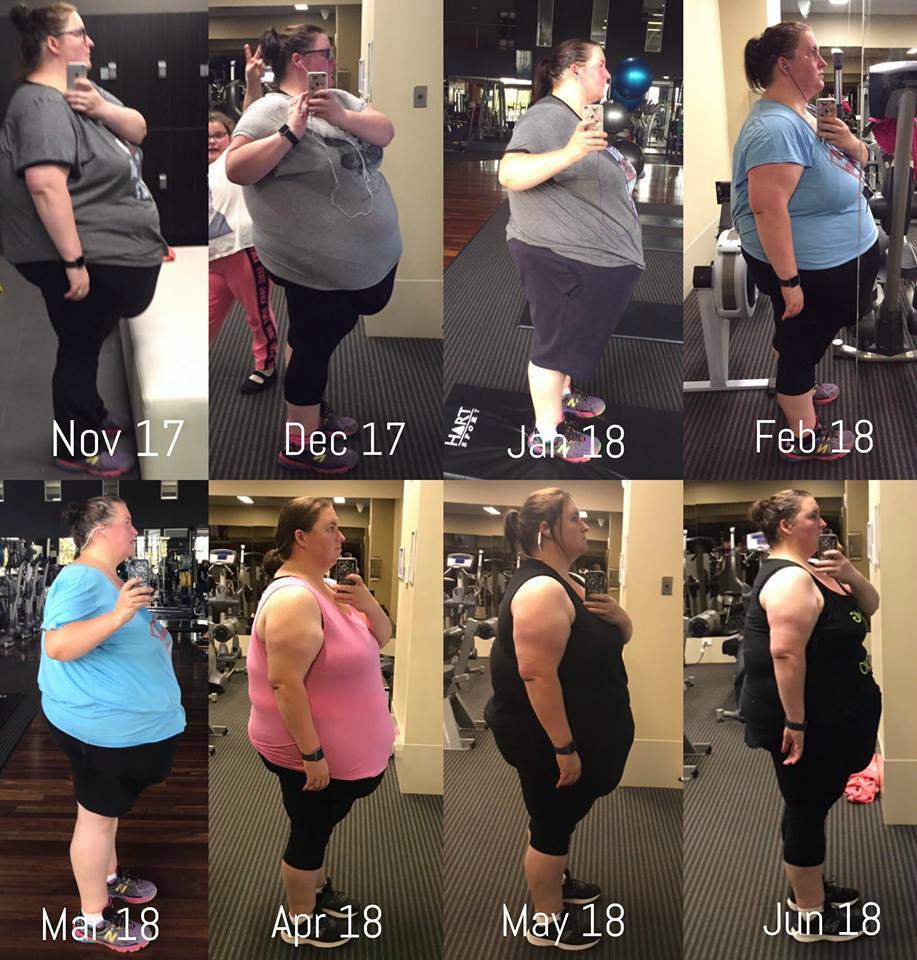 Stephanie's advice to others who may be on their own weight loss journey
Stephanie is hoping that her story will inspire others to take a leap of faith and achieve their weight loss goals.
When asked how she stays so positive and motivated she explains, "Consistency, determination, staying accountable and believing in myself have been some of the keys to my success. And accepting that it's not always going to be easy and I'm not always going to be perfect has helped me through the hard times."
"I am honored to be able to share my journey with you all and it warms my heart to know how many of you are inspired by my story. As cliche as it sounds, I want you to know that if I can do it, you can do it as well."
"You deserve to give yourself another shot just like I did. You'll thank yourself for it and so will your Elephant when you sit on him when you're so much lighter."
"I'm a big believer of one day at a time and taking small steps to achieve big things. I've got another 150 lbs to go before I get to my goal weight but I know this journey will never end. I'm here for the long haul and as each day passes, I know I've got this. And I know you have as well."
"Let's do this!"
Stephanie's next goals and budget tips
"My goal right now is to continue being consistent and accountable. I no longer focus on losing a certain number of pounds as this isn't always in my control."
"I like to focus on things I can do and keep track of. I'll continue working out five days a week, watching my water intake and keeping a food diary."
Stephanie's top 5 budget tips:
If you're a 'see it, buy it' shopper – shop online using a list. This will save you seeing the things that you don't need! 
When working out your meal plan, make sure you're using things you have in the fridge, freezer, and pantry. There are some weeks where I haven't had to buy meat at all as I've managed to stockpile some from the week before!
Shop around for the best prices. You'll often find that meat and produce are a lot cheaper in different stores and shopping around will help save you a small fortune!
Stop buying bottled water! Invest in a good water bottle and refill it at home. 
Try and shop only once a week. You're likely to spend more if you shop daily or several times a week."
Thank you, Stephanie, for taking The Healthy Mommy journey.  We are so looking forward to following more of your achievements with you.
Are you ready to become a Healthy Mommy?
Our Challenge is designed by moms FOR MOMS – to help them reach their goal weight and tackle their health and fitness.
The Challenge is home to customizable meal plans, 24/7 social support and realistic exercises moms can do AT HOME.
To find out more on the 28 Day Weight Loss Challenge click here.
*Images and references to pounds lost are as supplied by the individual in the story. The Healthy Mommy assumes information and photographs supplied to be true in nature and is not responsible for any false misrepresentations or claims relating to their programs or products.