Our Top Ten Healthy meals and treats for Thanksgiving!
Heading to a Thanksgiving family get-together, or another holiday party? If you're worried about sticking to your healthy meal plan and/or weight loss goals, offering to bring a dish is the easiest way to take control.
In this article, we'll share tips for choosing treats and desserts that are relatively healthy so you can stay on track with your healthy eating even when you go out. We'll even include our TOP TEN Healthy Mommy Thanksgiving dishes!
Why it's important to stay on track with your healthy eating
Here at the Healthy Mommy, we're advocates for making long-term lifestyle changes, not following diets. So while it can be so tempting to eat all those sugar holiday foods, sticking to healthy meals over Thanksgiving is super important.
And even though we believe it's totally okay to treat yourself occasionally, it's also important to stick to the changes you've decided on. Because your body deserves to feel healthy and amazing – even over the holidays when so many people let their health slide.
Tricks and swaps to make your favorite treats healthier
Just because you're sticking to healthy meals and snacks this Thanksgiving doesn't mean you have to miss out. In fact, you can probably make a few tweaks and swaps to some of your favorite recipes to make them less sugary, more nutritious, and more filling. Depending on the meal or snack, here's what you might try:
Instead of sugar, see if you can add fruit like mashed banana or applesauce to sweeten the flavor
Instead of heavier ingredients like cream, go with lighter ingredients like Greek yogurt
Swap refined white flour for wholewheat flour or almond meal
Spread healthier fats like avocado on your crackers or sandwich instead of butter, cheese, or mayo
Swap white bread for wholewheat bread
Choose dark chocolate over milk chocolate
Use extra-virgin olive oil instead of butter
Instead of chips, put out roasted nuts to snack on
Swap full cream milk for skim milk
Wherever possible, add more veggies to make every meal a healthier one
10 healthy meals and snacks you'll love this Thanksgiving!
Ready to bake some tasty snacks and delicious healthy meals for the Thanksgiving holidays? We've put together a collection of some of our TOP favourites…
Eating healthy doesn't mean that you can't celebrate in style. And smart preparation will allow for everything to be ready at the same time! This main meal for Thanksgiving or Christmas will be sure to please your family and friends.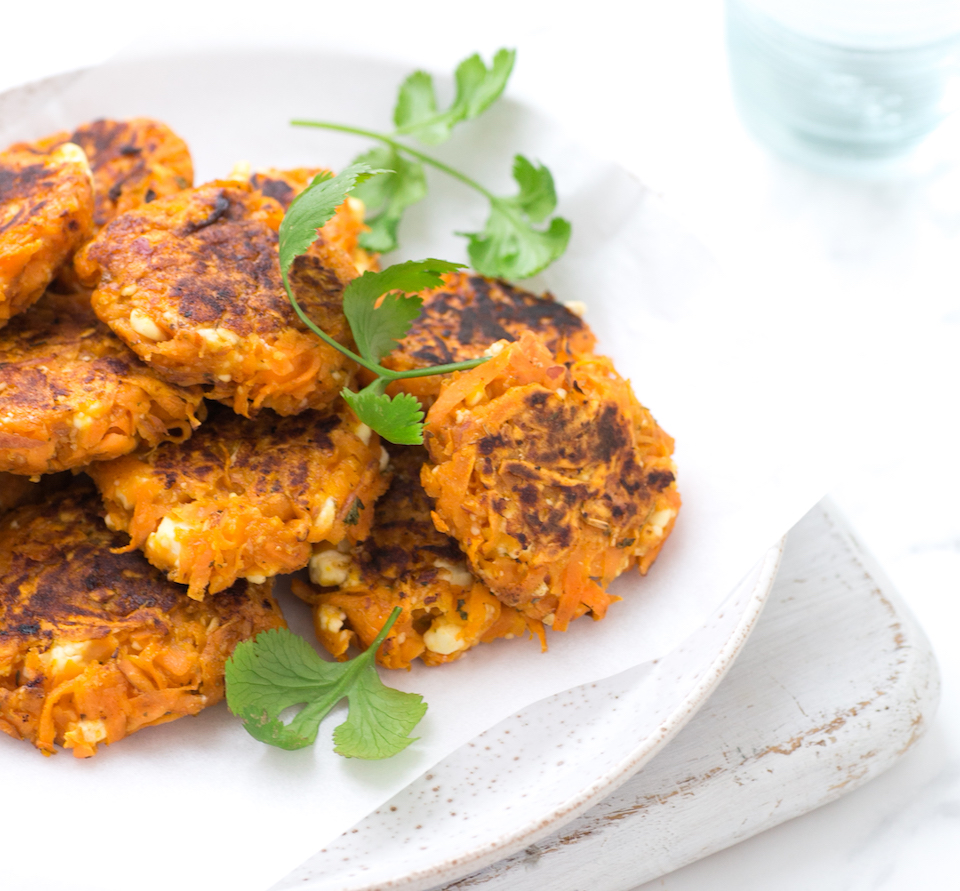 Sweet potato and feta make some a great flavor combination. This is such a tasty hot snack from the 28 Day Weight Loss Challenge or a great side dish for your main meal.
This is a delicious meal the whole family will love. It's served with a yummy coconut sweet potato mash. Adding healthy fats to the sweet potato assists with boosting your metabolism.
This is an easy to prepare salad that's great to make in a large quantity and share with family and friends. It's a perfect salad to serve as the main event or to make using up leftovers from your Thanksgiving turkey.
Prepare these chips in advance and let the oven do all the hard work to crisp them up to a deliciously healthy version of a favorite savory snack. The apple cider vinegar helps alkalize the body and is often used to boost metabolism.
Who doesn't love pumpkin at Thanksgiving! A delicious sweet treat with all the goodness and nutrients that pumpkin provides.
The perfect Thanksgiving and healthy dessert that's packed full of fiber from the apples and omega-3s from the nuts.
This Healthy Triple Chocolate No Bake Cheesecake is a real crowd pleaser and a great option if you've been asked to bring dessert to a Thanksgiving gathering. Plus its only 200 calories per serving!
These Fall inspired muffins are so good it's hard to believe they are healthy! You can also enjoy them as a Thanksgiving snack, the kids will totally love them.
A delicious and healthy twist on a family favorite. Perfect for entertaining over Thanksgiving or Christmas.
Psst… want more tips for staying healthy this Thanksgiving? Read our other article on 5 simple ways to have a healthier Thanksgiving
Get all your healthy meals planned for the holiday season
Want more healthy meals and better-for-you versions of your favourite holiday foods? Join our 28 Day Weight Loss Challenge and get all our healthy meals and weight loss recipes!