Yummy GLUTEN-FREE snack ideas for kids' lunch boxes
Finding lunch box recipes for your kids that they will actually eat and that are also healthy is no easy task!
And what's even harder is finding kid-friendly GLUTEN-FREE recipes.
Food labels can be misleading sometimes, so for moms with children suffering from Celiac Disease or a gluten sensitivity often the safest way to ensure your little one is eating gluten-free food is to make it yourself.
Here are some great YUMMY gluten-free snacks that you can put in your children's lunch boxes.

5 days' worth of gluten-free lunch box ideas
Day 1
Morning snack: Zucchini and Super Green Pesto Muffins
Getting greens into the mix is a hard task for any parent, so hiding them in these savoury muffins is a great way to get your fussy eater to consume their veggies, sans complaints.
Ingredients
125 ml coconut oil, olive oil or butter
1/4 cup grated cheese
2 eggs
1/4 cup Super Green Pesto*
1 cup grated zucchini
2 cups all-purpose gluten-free flour
2 tsp salt
4 tsp baking powder
1/4 cup milk
*Super Green Pesto ingredients
1/2 head broccoli,
1/2 cup seeds
1 garlic clove
1 cup baby spinach
1 bunch basil
1/4 cup olive oil
1/2 cup lemon, juiced
Method
Preheat oven to 180 degrees.
Line or lightly grease a 12-cup muffin tin or 24-cup mini muffin tin.
Combine oil/butter, cheese, eggs, pesto and grated zucchini.
Sift in the flour, salt and baking powder, add milk and stir to combine.
Spoon mixture evenly into the prepared tin.
Bake for 10-15 minutes for mini muffins and 20-25 for larger muffins, or until muffins bounce back when lightly pressed.
*Super Green Pesto method
Preheat oven to 200 degrees.
Spread broccoli florets over a lined baking tray and roast for 15 minutes.
Lightly toast the seeds and garlic in a dry frying pan. Place the broccoli, garlic, seeds, spinach and basil in a blender or food processor.
Pulse while drizzling in the olive oil and lemon juice.
Store in a sealed container for up to 1 week in the refrigerator.
Lunch: Egg Burrito
Protein at school is a great way to keep your child's energy and attention levels balanced. The egg in this burrito will keep them nourished and full which can make them more focused during class time.
Ingredients
Olive oil spray
1 egg
1 gluten-free tortilla
1/4 red pepper, chopped
1 handful arugula or baby spinach
1/4 avocado, chopped
Method
Heat a small frypan and spray with oil, cracking an egg into the pan and scrambling it
On the tortilla, layer the veggies and egg leaving at least 2 inches space from the edge.
Fold up the bottom edge, then top the edge, then wrap around the sides.
Cut in half and wrap in foil.
Day 2
Morning snack: Mini pancakes
Whip these up on a lazy Sunday morning and store for Monday lunch boxes. Ask your kids what toppings they want. Some ideas are banana and raw honey or even tomato and cheese! The options are limitless.
Ingredients
1 egg
1 cup gluten-free all-purpose flour
1/2 tsp salt
2 tsp baking powder
1 cup milk
Oil or butter, for cooking
Method
Combine flour, baking powder, salt. Mix in egg and milk and whisk until smooth (alternatively you can blitz in a blender). Set aside to rest for 5 minutes.
Heat a frying pan over medium heat. Add a little oil or butter to coat the pan.
Pour in 1 tbsp of mixture per pancake.
Wait for bubbles to form on the outside rim. When the bubbles have formed on 60 per cent of the pikelet, flip and cook the other side briefly. Repeat with remaining batter.
Lunch: Mexican Sandwich
Beans are full of fibre and protein which means your child will be getting a count of their daily vegetable intake in their sandwich! Using avocado as a substitute for butter also adds potassium and vitamin C to the lunch! Also, it doesn't hurt that this lunch takes 2.5 seconds to whip up.
Ingredients
1/4 avocado
2 slices gluten-free bread
2 tbsp canned beans, rinsed and drained
2 tbsp grated carrot
Method
Spread avocado over gluten-free bread.
Top with combined beans and carrot.
Day 3
Morning snack: Honey Seed Slice
Having a sweet hit at recess doesn't always have to be unhealthy. Take these honey seed slice's, filled with protein-rich seeds and sweet sultanas. No gluten in sight!
Ingredients 
1/2 cup pumpkin seeds
1/2 cup flaxseeds
1/2 cup sunflower seeds
1/2 cup shredded coconut
1/2 cup sultanas
1/2 cup honey
100g coconut oil or butter
Method
Preheat oven to 150 degrees
Combine seeds, coconut and sultanas in a large bowl.
Melt honey and coconut oil/butter in a saucepan and pour over the seed mixture. Stir to combine.
Spread the mixture evenly over a lined baking tray and press down until flat and around 2-3cm thick.
Bake for 10 minutes or until browning on top.
Remove from the oven and follow to cool, then break or slice into 21 pieces.
*Store in an airtight container in the fridge.
Lunch: Tuna pasta salad
Omega-3 fatty acids for the win! Tuna is a great source of protein for kids and the salty taste will get them finishing all of this tuna pasta salad. Make this the night before for dinner and pop some into a container for your child's lunch the next day, no morning-making lunch scramble involved.
Ingredients
2-3 cherry tomatoes
1/2 Lebanese cucumber
50g tinned tuna, drained
1/2 cup cooked gluten-free pasta, cooled
Sprinkle of grated parmesan
Method
Chop tomatoes and cucumber into chunky dice.
Toss vegetables with tuna and pasta.
Sprinkle with parmesan.
*Refrigerate before putting into a lunch box.
Day 4
Morning snack: Homemade Muesli Bars
Think store-bought muesli bar, but better tasting and better for your kids. With the base of this recipe being rolled oats (use gluten-free) plus puffed rice, these bars are wholesome and easy on the digestive system. With a hint of sweetness from the apples, your kids are sure to ask you to pack another the next day!
Ingredients
2 apples, grated
100g butter or coconut oil
1/2 cup honey
1 cup gluten-free rolled oats
1 cup puffed rice
1/2 cup desiccated coconut
1/2 cup pumpkin seed (pepitas)
1/2 cup sultanas
Method
Preheat oven to 200 degrees.
Place grated apple, butter/oil and honey in a saucepan and heat for 10 minutes, stirring often, until the mixture starts to pull away from the sides when you stir it.
Combine the remaining ingredients in a bowl. Pour over the apple/honey mixture and stir to combine.
Pour mixture into a lined slice tine and flatten it out to 1.5-2cm thick. Bake for 15 minutes.
Remove from the oven and allow to cool. Refrigerate until firm, then cut into squares.
Lunch: Baked Meatballs
Bake these babies on the weekend, freeze in bulk and then take out to throw in the lunchboxes. They'll be defrosted by the time the lunchtime bell rings! Bite-sized foods like this will make your kids more inclined to eat and finish!
Ingredients
200g ground pork
200g ground beef
2 garlic cloves, crushed
1 medium carrot, grated
1/3 cup gluten-free breadcrumbs
1 tbsp olive oil
Method
Preheat oven to 180 degrees.
Combine all the ingredients, except the oil, mixing with your hands until well combined.
Roll into walnut-sized balls and place on a lined baking tray.
Lightly brush with olive oil.
Bake for 25 minutes, turning halfway.
*Allow to cool before packing in the lunch box and serve with some hummus and sliced vegetables.
Day 5
Morning snack: Seed Crackers
Goodbye packet flavoured crackers that every kid seems to love, and hello nasty-free crackers. Pack with some cheese and tomato and you'll be forgiven for stealing one on a Friday morning.
Ingredients
1/2 cup chia seeds
1 cup water
1/2 cup pumpkin seeds
1/2 cup sesame seeds
1/2 cup flaxseeds
1/2 cup sunflower seeds
1 cup puffed rice
2 tbsp olive oil
1 tbsp salt
Method
Preheat oven to 120 degrees.
Soak chia seeds in the water for 10 minutes, stirring occasionally.
Place soaked chia seeds and all other seeds a food processor and blitz for 30 seconds.
Scrape seeds into a bowl and mix through puffed rice, olive oil and salt.
Spoon tablespoons of mixture onto lined baking trays. Press down with a wet hand to make cracker-sized rounds.
Bake for 1 hour or until crackers are crisp. Allow to cool before serving with dip or toppings of choice.
Lunch: Polenta, Feta & Sun-Dried Tomato Muffins
Using this naturally gluten-free ingredient of polenta means that you're rid of the task of searching for gluten alternatives. Get the kids involved when making this recipe, they'll think they're making cupcakes! Little do they know…
Ingredients
1 cup gluten-free all-purpose flour
1/2 tsp salt
1 cup polenta
2 tsp gluten-free baking powder
1/4 cup grated parmesan
1 egg
1 cup milk
1/3 cup olive oil
200g feta, crumbled
1/2 cup semi-dried tomatoes, drained and chopped
Method
Preheat oven to 180 degrees.
Line muffin tray with paper cases.
In a large bowl combine flour, polenta, baking powder and parmesan.
In a separate bowl, lightly whisk egg, milk and olive oil.
Slowly pour the wet mixture into the dry ingredients, stirring with a wooden spoon.
Fold in feta and semi-dried tomatoes.
Spoon mixture into paper cases and bake for 18-20 minutes or until golden.
Get more recipes like this to help make your kid's lunch boxes amazing!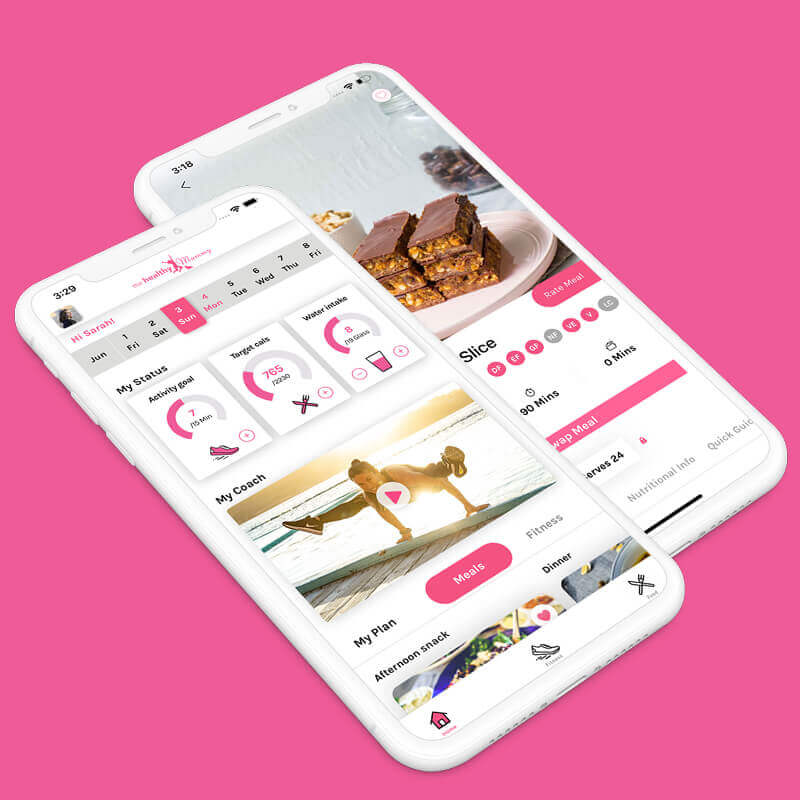 Join The Healthy Mommy 28 Weight Loss Challenge and gain access to thousands of family-friendly, budget-friendly recipes, a monthly meal plan, and exercise videos which you can do in the comfort of your home via our App.
And be inspired by moms just like you via our Online Facebook Support Group.