Rhian's top 8 all-time favorite chocolate recipes
Hi I'm Rhian, the founder of The Healthy Mommy and the 28 Day Weight Loss Challenge.
The Healthy Mommy is a health and weight loss program created for busy moms. It all started back in 2010 when I was pregnant and wanted to create a supportive and holistic program for moms (you can read my story here).
Fast forward to now, and now millions of moms use our famous 28 Day Weight Loss Challenge every day!
Whether I'm preparing my snacks for the week, entertaining friends, prepping for the lunchboxes, or just want to make something special for my family – these are the chocolate recipes I go for.
Here at The Healthy Mommy, we have created so many incredible chocolate recipes that you can enjoy as part of your weight loss eating plan.
There's no need to miss out on chocolate just because you are trying to lose weight on the 28 Day Weight Loss Challenge!
My top 8 chocolate recipes
These eight recipes can all be made in advance too, and because I'm a busy mom of two boys that suits me perfectly.
It means I can make and bake when I've got some time, and then enjoy the 'tada!' moment as I pull out the special dessert or snack when I'm ready to serve it.
1. Chocolate Cake Bites
118 calories
I love a little bit of chocolate after dinner, and these cake bites are just the right size for me. Plus they can be made in 5 minutes!
Ingredients (makes 10 servings)
1/2 cup pecan halves
1/2 cup medjool dates, fresh
3 tbsp cacao/cocoa powder
3 tbsp shredded or desiccated coconut
4 tsp coconut oil
4 tsp boiling water
Method
Place pecans, coconut and cacao into a food processor and process on high speed until fine.
Add remaining ingredients, except the water, and blend on high until well combined. Add water a little at a time if necessary until the mixture sticks together.
Roll mixture into 10 balls. Place in the fridge to chill or serve immediately.
1 ball is one serving. Store leftovers in the fridge for up to a week or in the freezer for up to a month.
2. Banana and White Chocolate Bread
166 calories
This is a lunchbox staple for my boys. They LOVE IT and I love it too as it's a 'mix it all in the food processor and bake it' recipe!
Chocolate Chip Banana Bread recipe 
3. Indulgent Almond Cacao Fudge
108 calories
I like to serve this decadent fudge with coffee after dinner when I've got friends over. This fudge is packed with protein thanks to the secret ingredient – chickpeas!
Ingredients (makes 8 servings) 
1/2 cup cacao/cocoa powder
1/4 cup coconut oil
2 tbsp tahini
2 tbsp almond butter
1/4 tsp cinnamon
salt
1 tsp vanilla extract
3 tbsp maple syrup
Method
Line a small loaf pan with baking paper and set aside.
In a heavy-based saucepan, combine coconut oil, tahini, almond butter, maple syrup, vanilla, cinnamon and a pinch of salt. Stir over low heat until smooth and liquified.
Remove from heat and stir in sifted cacao/cocoa. Pour into lined tin and smooth surface.
Refrigerate until firm, at least 2 hours, then remove from pan and cut into 8 slices. One slice is one serving.
Store in fridge or freezer (will last for a week or more in an airtight container in the fridge).
4. Chocolate Berry Layer Cake
251 calories
This has become my official party cake! Whenever it's someone's birthday I make this for them and decorate it with their favorite toppings. My boys love strawberries on top, while my husband likes it with shavings of white chocolate.
Chocolate Berry Layer Cake recipe
Ingredients
For the cake
2 2/3 cups whole wheat self-raising flour
1 cup coconut sugar
1/4 cup cocoa/cacao powder
4 eggs
1.5 cups almond milk
1 tsp vanilla extract
1 tsp instant coffee granules
1/4 cup coconut oil, melted
For the filling
1 cup Greek yogurt
2 tsp honey
1 cup mixed fresh berries and cherries of choice
0.5 oz dark chocolate
Method
For the cake
Preheat oven to 355°F.
Line two 8inch round cake tins with baking paper, set aside.
In a large mixing bowl, combine flour, sugar and cocoa/cacao. Mix well to combine.
Add eggs, milk, vanilla, coffee and coconut oil.
Using a hand mixer, beat the mixture for 20 seconds or until just combined and thick, scraping down the sides as needed. Do not over-mix batter or the cakes will be tough.
Divide batter evenly between the two lined tins.
Bake for 30-35 minutes or until a skewer inserted into the middle comes out clean.
Remove and cool in tins for 10 minutes.
Remove from tins and transfer to wire racks to cool completely.
For the filling
Combine yogurt and honey, mix well
To build the cake
Once cakes are completely cool, trim tops of cakes to make each even and flat.
Spread half the yogurt mix over the top of one cake. Add half the fresh mixed berries on top of the yogurt.
Carefully place remaining cake on top of the other to sandwich together.
Spread remaining yogurt on top of the cake and add remaining berries.
Run a vegetable peeler along one side of the dark chocolate over the cake, creating chocolate shavings.
Slice into 16 pieces – 1 slice is one serve. Store leftovers in an airtight container in the fridge for 3-4 days.
251 calories per serve
5. Chocolate And Raspberry Bark
218 calories
When I want to make something special for my team, I make a double batch of this chocolate bark and bring it into the office – it's GONE in minutes.
Ingredients (makes 8 servings)
7oz dark chocolate (70%)
1 tbsp rice malt syrup or honey
1 tbsp coconut oil
1/4 cup fresh or frozen raspberries
1/4 cup pistachios, unsalted, chopped
1/4 cup shredded or desiccated coconut
Method
Break up chocolate and place in a heatproof bowl over a saucepan of simmering water on the stovetop (do not let bowl touch water). Add brown rice syrup or honey and coconut oil. Stir until melted.
Line a baking tray and spread melted chocolate mix evenly over the top. Scatter over the raspberries, pistachios and shredded coconut and place into the freezer for an hour.
Once hard break up into 8 pieces. If not serving immediately, store in an airtight container in the freezer for up to 3 months.
Serve one portion as a sweet snack.
6. Chocolate Chip Muffins 
183 calories
If I know I've got someone popping over for afternoon tea on the weekend, I head straight for this recipe. I also regularly make these muffins with my boys on a rainy afternoon.
Get the Chocolate Chip Muffins recipe here.
7. Easy Choc Orange Mousse
205 calories
I LOVE the five ingredient recipes from the 28 Day Weight Loss Challenge and this is one of my all-time favorites. Pop everything in the blender until smooth, dollop into a bowl, and THAT'S IT.
Ingredients (makes 4 servings) 
2 medium avocadoes
2 frozen bananas
1/3 cup cacao/cocoa powder
2/3 cup orange juice
4 tsp orange zest
Method
Place all ingredients excluding orange zest in a food processor and blend until well combined and smooth.
Place in 4 serving dishes and top with orange zest to serve.
8. Peppermint Chocolate Bars
180 calories
When I'm asked to bring something nice to a casual friend or family event, this is my go-to recipe. I usually chop it into small pieces to make it an easy to eat sweet treat.
Ingredients (makes 12 servings)
1 cup medjool dates, fresh, pitted
1 cup rolled oats
1 tbsp cacao/cocoa powder
salt
1/2 teaspoon peppermint extract
2 tbsp coconut oil, melted
1/4 cup cashew nuts, unsalted
1/4 cup pumpkin seeds (pepitas), roasted
1 tbsp desiccated coconut
Method
Line an 8in x 8in pan with baking paper.
Process dates in a food processor or blender until they form a paste.
To the dates, add all remaining ingredients. Blitz until well combined.
Press mixture very firmly into the pan and place in the fridge or freezer to set.
When set, slice into 12 pieces. 1 piece is 1 serving.
Leftovers can be stored in an airtight container in the fridge for up to 2 weeks or freeze for up to 3 months.
Results from moms using The Healthy Mommy Plans
Sascha Farley
Sascha says, "Over 66 lbs gone from using The Healthy Mommy 28 Day Weight Loss Challenges and maintaining it couldn't be more enjoyable"
Amy Sims
Amy has gone on to lose 74 lbs! Starting at 207 lbs, she now weighs 133 lbs, something she hasn't weighed since she was 10 years old she says.
"If you're consistent the result will come. It won't be overnight, you'll have to be patient, but consistency will get you there in the end," Amy says.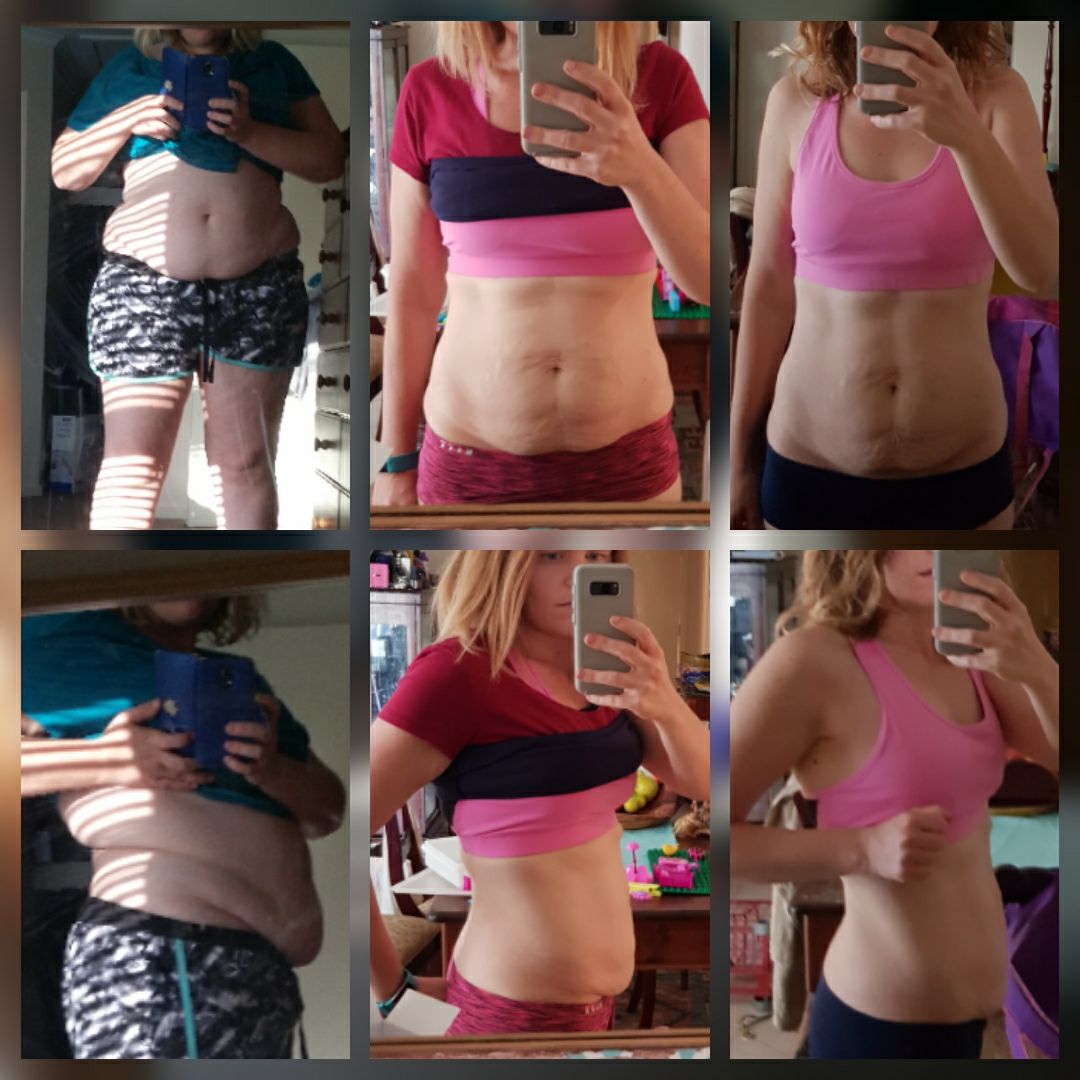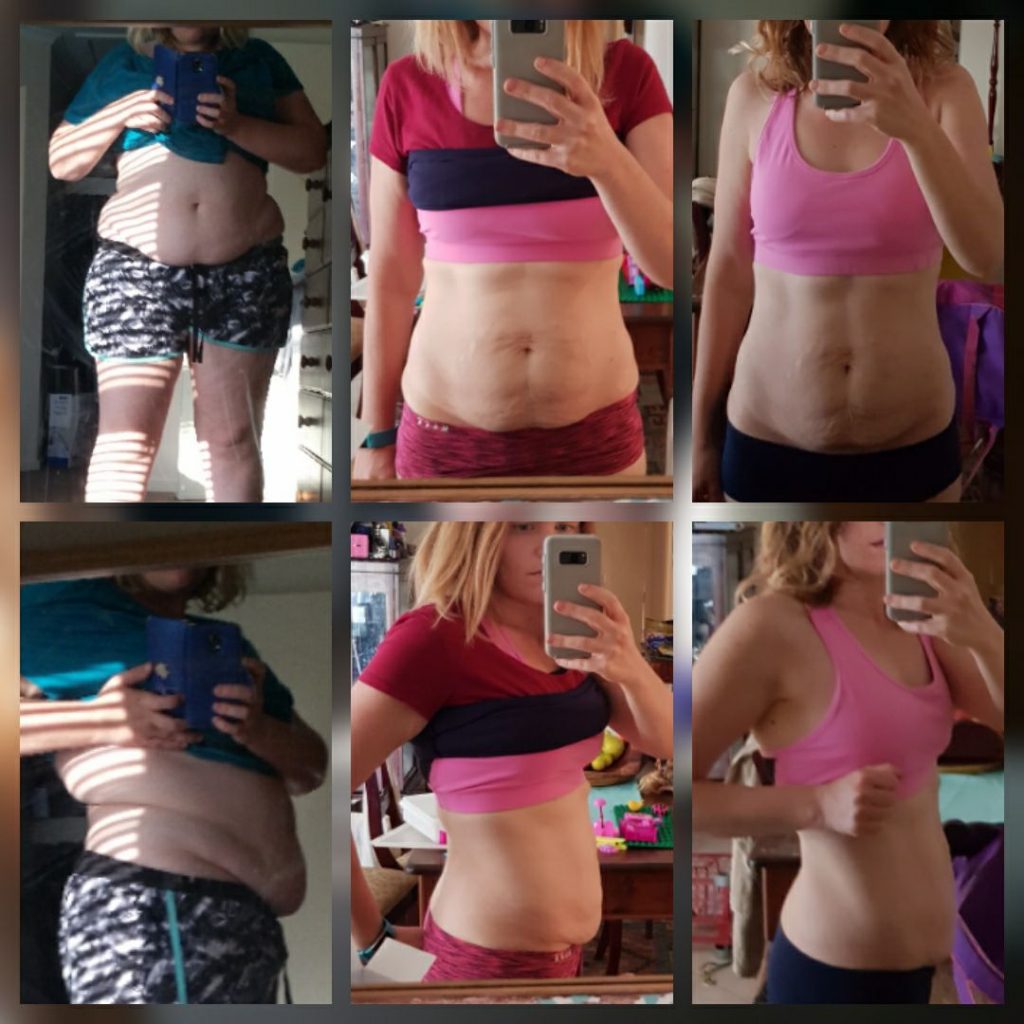 Charlotte Leorke
Charlotte has gone from 243 lbs to 176 lbs, losing 67 lbs!
She says, "Since joining #teamhealthymommy my biggest achievement would have to be how far I've come in my presence of mind. I now have next to no worries on what people think of me."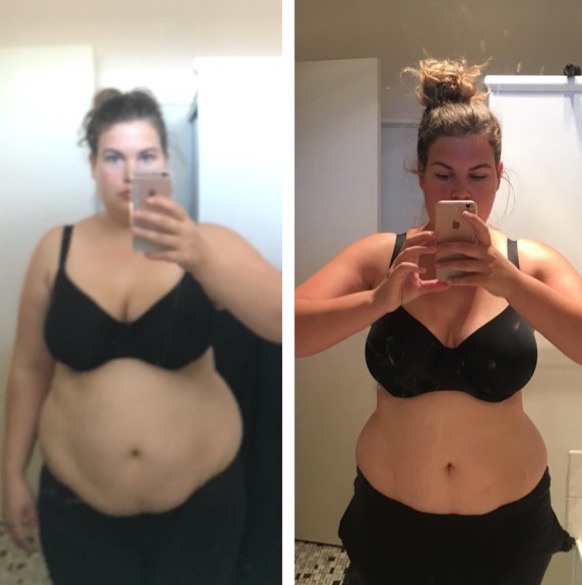 Renee Harrison
Mom Renee has overcome depression and anxiety stemming from an abusive relationship and transformed her body losing 112 lbs.
She says "previously I lived day by day, but now I embrace life as it were my last day on the earth!".