A healthy version of a fast food favorite from the 28 Day Weight Loss Challenge.
Great to make in bulk and store in the freezer for a quick to prepare meal another time. Packed full of veggies, this dish is a great way to eat the rainbow
and make sure you are getting the nutrients you need to support your immunity.
This dish will give you 1/3 of your daily zinc needs and 100% of vitamin A, another vitamin that works hand in hand with immune function.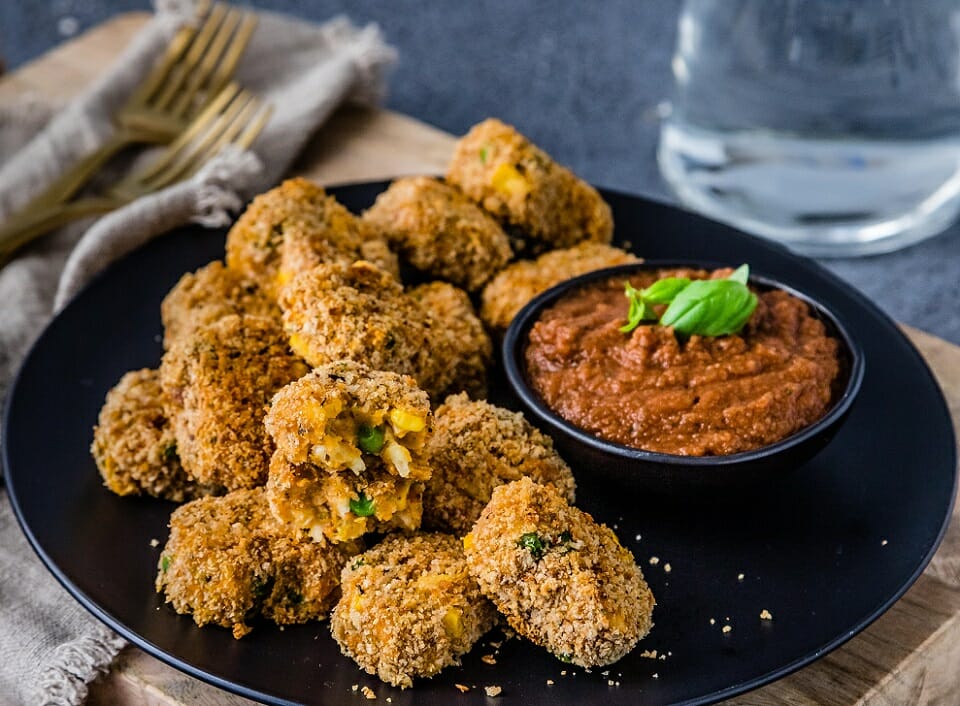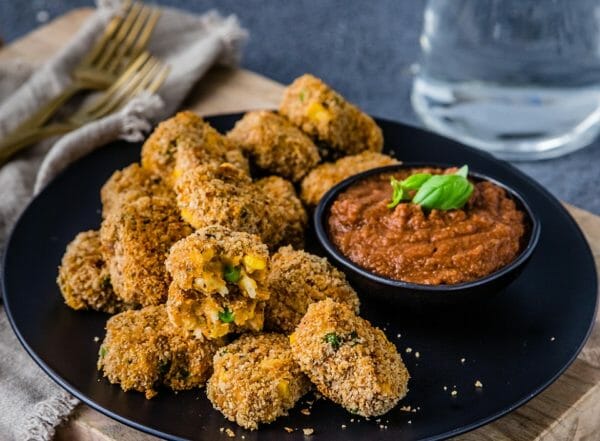 | | |
| --- | --- |
| | |
Steam the sweet potato on the stovetop or in a microwave until tender. Mash.

Place the broccoli and cauliflower into a food processor and process until they resemble grains of rice.

Combine the mashed sweet potato with the broccoli and cauliflower rice. Add the peas, corn, cheese, egg and flour and stir to combine well. Season with salt and pepper.

Preheat oven to 375F and line a cookie sheet with parchment paper.

Combine the breadcrumbs and dried herbs.

Shape the vegetable mix into 12 nugget shapes and gently roll each one into the herbed breadcrumbs. Place on the prepared cookie sheet and lightly spray with cooking oil spray.

Bake for 20 minutes, remove from the oven, turn the nuggets over, lightly spray again with cooking oil spray and return to the oven for another 20 minutes or until crisp and golden.

While the nuggets are cooking, place the tomatoes, garlic and zucchini in a saucepan. Cook for 4-5 minutes or until heated through and zucchini is tender. Season with salt and pepper. Place in a blender and blend until smooth.

Divide the nuggets evenly between two plates and serve with an equal amount of the zucchini-tomato sauce for dipping.

Serve with a simple side salad if you like.
This recipe contains 433 calories per serve and costs only $1.57.
Join the 28 Day Weight Loss Challenge for more delicious immunity boosting recipes
The #1 moms-only weight loss brand
Our 28 Day Weight Loss Challenge is made for busy moms! We offer customizable, affordable and family friendly meal plans that make healthy eating easy and sustainable.
We have over 350 full length workout videos that are perfect for busy moms and also cater for postpartum moms.