WOW! Melissa celebrates her 80+pound weight loss with STUNNING boudoir photoshoot!
Mom Melissa Timmer recently shared with The Healthy Mommy community some of her STUNNING photos from a boudoir shoot she had done to celebrate her 80+ pound weight loss and commitment to living a healthy lifestyle.
And Wow! Boy did she sizzle!
Read her incredible weight loss journey below.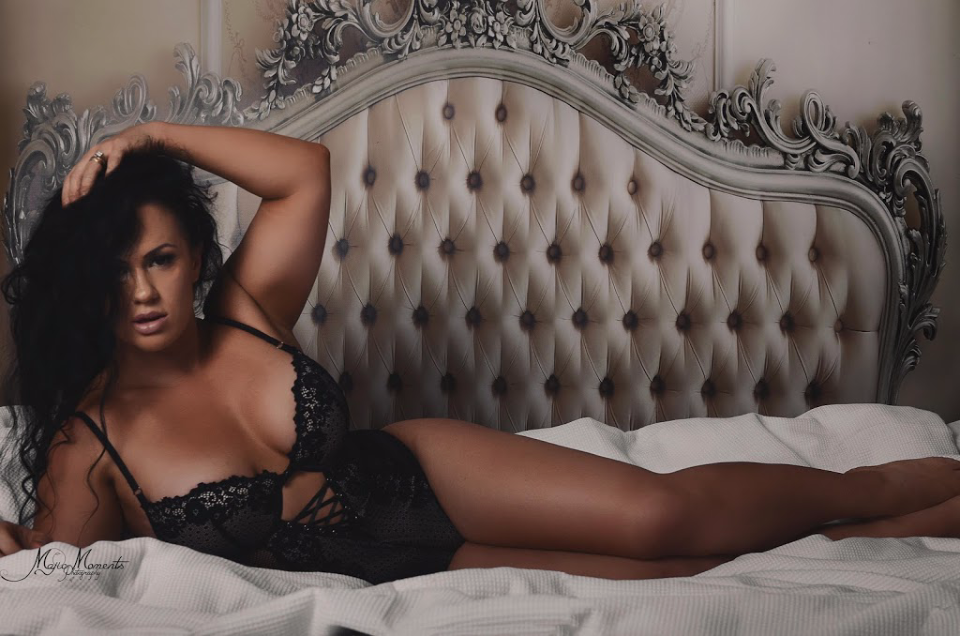 Melissa's Healthy Mommy weight loss journey
Melissa first joined The Healthy Mommy 28 Day Weight Loss Challenges back in 2017 and has been living a healthy mommy lifestyle ever since.
She says "My starting weight 235 pounds.
Weight Loss Results – 81.5 pounds
"It took me 9 months to lose my weight.
My starting weight in March 2017 was 235 pounds. By December 2017 I had lost 77 pounds and was at my goal weight of 158 pounds. By November 2018, I had lost 81.5 pounds total.
I have been toning and muscle building the last 2 years".
It took about 2 years before Melissa's partner adopted the Healthy Mommy lifestyle and he then lost 28.5 pounds in 10 weeks and has just been maintaining that ever since.
Melissa says "I am super proud of him and the choices he has made with changing his food and what he chooses to drink now. No more soft drinks, only water and he will have the Healthy Mommy protein shakes and Healthy Mommy smoothies.
We both eat the Healthy Mommy snacks and meals and I train 5 days a week and he does about 2-3.
Now that we train together and are on the same page it's bought us so much closer because we have something that we both love and can talk about.
Combined weight loss over 110 pounds gone thanks to The Healthy Mommy for giving us the knowledge and the support.
We live and breathe a healthy lifestyle.
My Healthy Mommy journey is coming up to 3 years although I feel like it's just my way of living now".
Celebrating weight loss with a boudoir photoshoot
"For Christmas I gifted myself a special photo shoot to celebrate ME" says Melissa.
"I did it for my confidence and because I've been wanting to do this for a while now.
It ended up being easier and turned out so much better than what I expected it to be".
"It made me appreciate my body and what it has done for me"

"I was a little nervous beforehand but once I got started I relaxed and it was all worth it.
The shoot gave me a huge confidence boost and really made me appreciate my body and what it has done for me.
If anything, The Healthy Mommy has taught me to step out of my comfort zone because you will never regret it. The only thing I would have regretted would be wondering 'what if'?".
"My partner cried when I gave him the album"

We asked Melissa about her expectations for the shoot and how she felt afterwards and she said "The shoot turned out better than what I thought and my partner actually cried when I gave him the album".
Melissa and her partner really are the definition of couple goals. Both committed to living their happiest and healthiest lives – we couldn't be prouder of them.
Melissa's advice to other mom's thinking of doing a boudoir shoot
"Any moms wanting a little boost or to do something nice for themselves – don't worry about flabby bits or that you are not at your goal weight because you will amaze yourself at just how gorgeous you are.
Put yourself in the hands of a professional and give yourself some pampering".
Excellent advice Melissa! Congratulations on achieving your weight loss goal and thank you for INSPIRING so many other moms to live their happiest and healthiest lives!
What a wonderful gift you treated yourself too and VERY much deserved. You look absolutely STUNNING!
At the Healthy Mommy we are all about empowering mums to be body confident and it turns out Melissa isn't the only Healthy Mommy mom celebrating her weight loss with a photoshoot. Check out these other moms who are celebrating weight loss with a photoshoot.
Are you ready to kick-start your weight loss and make 2020 your healthiest year yet?

Want to shift your weight but feel like you have NO TIME in your day to exercise and eat healthily?
That's where the Healthy Mommy's 28 Day Weight Loss Challenge can help.
28 days of at home exercise routines (no gym needed) – with video instruction
Customisable and breastfeeding friendly meal plans
Time-efficient exercises for busy moms – under 30 mins
Challenge combines Pilates exercises with interval and circuit training (HIIT)
Suitable for basic to advanced fitness levels.
Home to thousands of EASY-TO-MAKE recipes.
To find out more about joining the 28 Day Weight Loss Challenge.