RECALL ALERT: New baby product has been recalled globally due to infant death fears
Fisher-Price has issued a global recall on the inclined sleeper accessory that comes included with all of their Ultra-Lite Day and Night Play Yards due to reported infant deaths from other similar products.
Customers are advised to contact the store they purchased the product or Fisher-Price customer service to get further information and organise a refund.
Read more on the recall below.
Ultra-Lite Day and Night Play Yards accessory recalled by Fisher-Price
In a statement issued by the company Fisher-Price said, "We initiated this voluntary recall even though there have been no reported injuries or fatalities involving this product."
Although the Fisher-Price accessory had not been associated with any infant injuries the notice for the recall on the U.S. Consumer Product Safety Commission (CPSC) website states, "infant fatalities have been reported while using other inclined sleep products."
Products affected
This recall involves the inclined sleeper accessory sold with all Ultra-Lite Day and Night Play Yards with model numbers CBV60, CHP86, CHR06, CJK24, and DJD11. The model number is located on the fabric label inside of the play yard and on the fabric label on the back of the inclined sleeper pad.
The product is a portable play yard with inclined sleeper and changing station clutch accessories and a carry bag; the inclined sleeper accessory is the only portion of the product that is being recalled.
All other parts of the product are still fine to use without concern.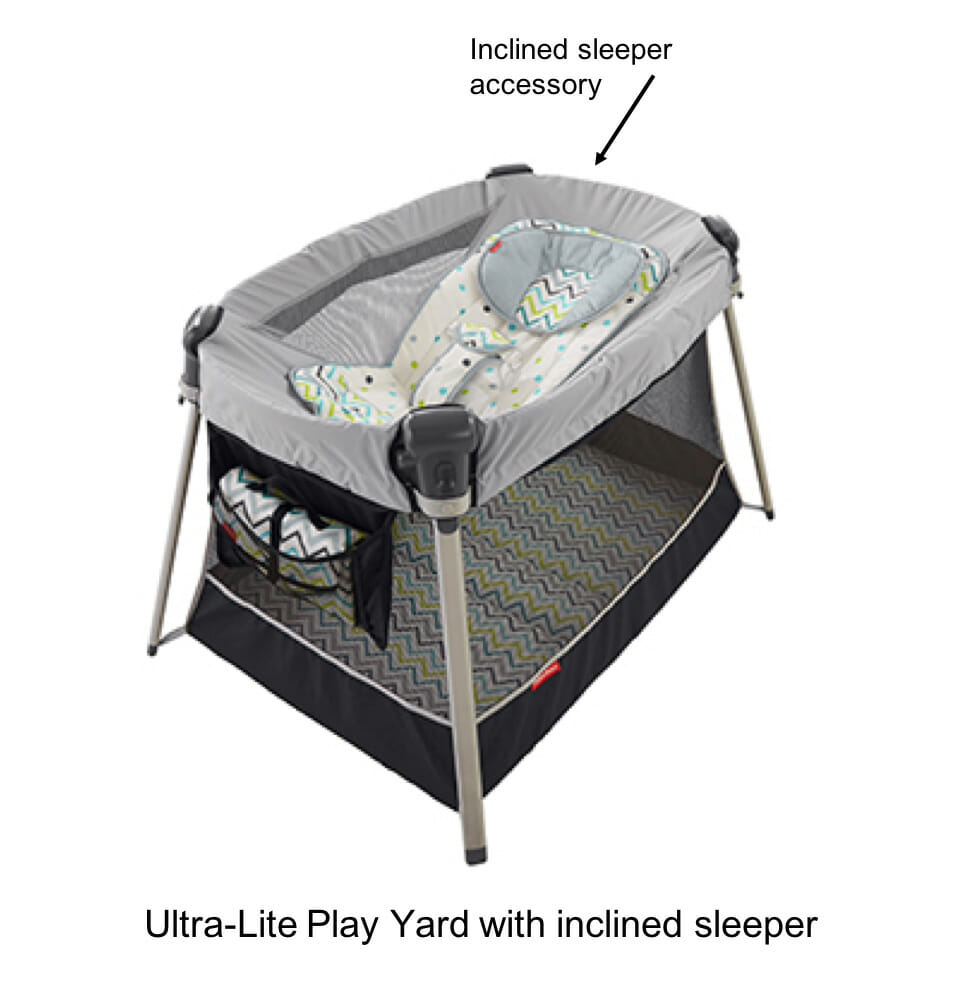 What to do?
You should immediately stop using the inclined sleeper accessory and contact Fisher-Price or the place you purchased the product from for a refund or voucher. There is no issued with the play yard portion of the product and you can continue to use this without the inclined sleeper accessory plus you can still use the changing station clutch accessory and carry bag.
You can contact www.service.mattel.com or 800-432-5437 through their customer service team.