6 helpful tips for moms to stay healthy when it's cold outside
As it gets cold outside, chances are you're making the most of the cool weather to snuggle up with your little ones.
But during winter, it's still super important to remember to look after yourself. After all, if the mothership goes down, the rest of the family will go down with it!
Here are some simple, practical tips to help you stay healthy, active and happy when it's cold outside from Rhian Allen, founder of The Healthy Mommy and the 28 Day Weight Loss Challenge.
1. Make friends with your freezer
I love making a big batch of something, whether it's a bolognese, curry, or even muffins and then putting them in the freezer and defrosting them as needed on busy days.
You can also freeze single-serve portions of rice and just defrost them in the microwave to save time.
This makes life SO much easier when the kids are tired and hungry!
2. Invest in a slow cooker
I LOVE slow cookers! You literally pop the ingredients in and a few hours later you have a delicious meal ready for the whole family!
A warming casserole or a leg of lamb becomes even more delicious after hours of slow cooking. Prep the side dishes such as rice or mash and just reheat at dinnertime. There are so many slow cooker recipes on the 28 Day Weight Loss Challenge, you'll be spoiled for choice.
Wintery food doesn't have to be unhealthy.
3. Stock up on soup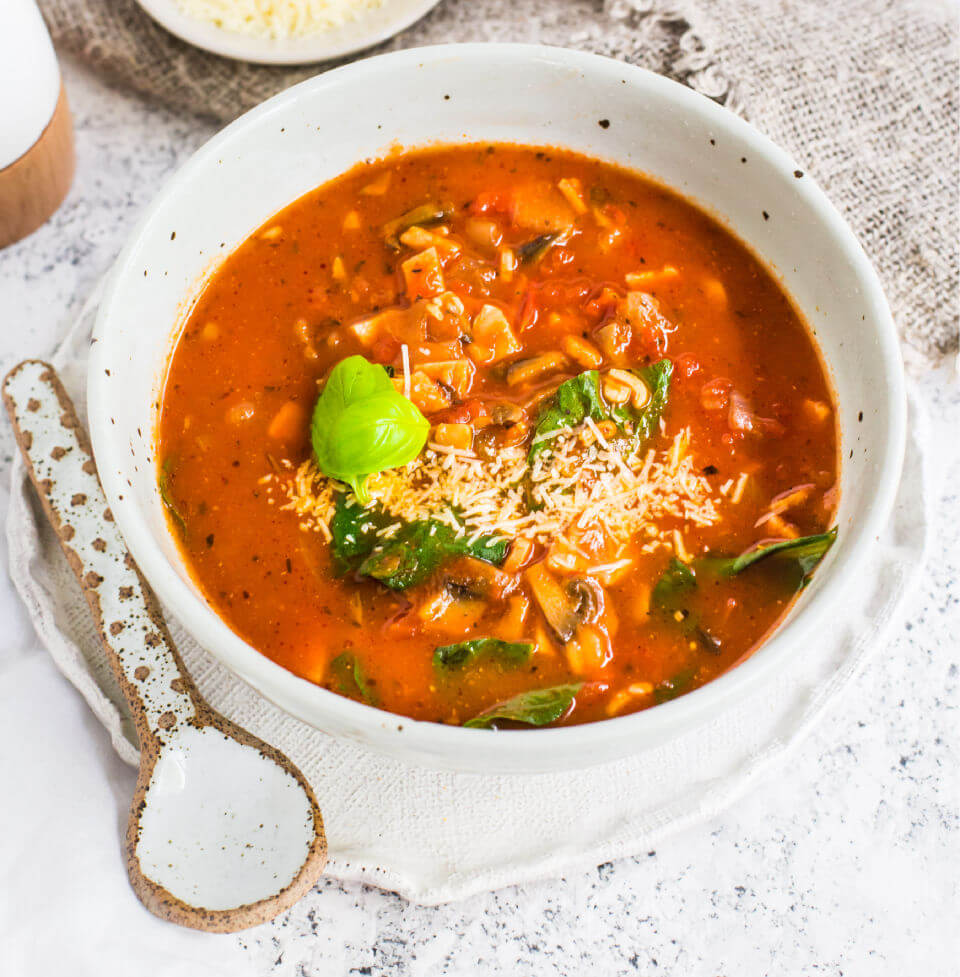 Do you ever get to around 3pm and realise that you haven't eaten anything yet? Not only is that bad for your energy levels, but it can also lead to bad habits like a late afternoon biscuit binge.
Soup is a great way to get more veggies into your diet, plus it's the perfect meal to warm up with. Make life easier by preparing a big batch of soup on the weekend, that way you you can just reheat each day for lunch. It's great on those hectic days when the last thing you want to do is cook!
We have some delicious soup healthy recipes in the 28 Day Weight Loss Challenge.
4. Get outside for some fresh air
When it's wet and cold, it's not exactly tempting to go out for a walk. But if you see a break in the weather, get out of the house with the kids for a walk, run or game of catch. Kids have so much energy, my boys love getting out and playing!
Even if it's just to pop to the post office or the shops, you'll feel much better after you get some fresh air.
5. Sneak in exercise where you can
Exercising doesn't always mean slugging it out in the gym for hours on end. When you're a busy mom, sometimes you just don't have the time and when it's cold outside, it can be hard to get motivated!
Whether you do some squats while doing the laundry or sneak in some tricep dips by the couch, there's always a sneaky way to fit in a workout and get active. The kids will love to join in too.
Or why not do one of the quick HIIT workouts from the 28 Day Weight Loss Challenge.
6. Get plenty of rest
Along with eating well and getting enough exercise, it's important to have some downtime and get plenty of sleep. When the kids have been put to bed, enjoy a little time for yourself, whether that's unwinding with a peppermint tea or reading a good book.
And while it's easier said than done for a lot of mums, try to get enough sleep as during the cooler months, we're more likely to feel run down and get sick.
Want to stay on track this winter? Check out the 28 Day Weight Loss Challenge
Our 28 Day Weight Loss Challenge is a family-friendly, breastfeeding-safe program designed FOR MOMS to help them tackle their health and lose the baby weight.
Every week you are given a different meal plan to follow and each month we add NEW recipes to our Challenge Recipe Hub. That way, you'll never get bored and stay on weight loss track while digging into healthy, yummy recipes.
Learn more about our 28 Day Weight Loss Challenge HERE.
If you would like a sneak peek at some of the meals, snacks and exercises from the 28 Day Weight Loss Challenge.