Nike introduces plus size mannequins and our moms love it!!!
How awesome is it that huge sportswear brand Nike has introduced plus-size mannequins, to its flagship London store! The re-developed women's floor now celebrates inclusivity as well as diversity.
This is wonderful news for the mommies from our recent Global Health Survey who are lacking body love and self-esteem. The findings taken from 5000 Healthy Mommies globally uncovered that 97% of moms feel good about seeing a range of moms with different body shapes in the media, and this is certainly a step in the right direction.
Source: Nike
The Healthy Mommy community thinks this move is awesome!
Healthy Mommy Lauren Kolstad says " I love that Nike is showing all bodies in-store. I am a size 14 running, boxing, and weightlifting mumma. I need workout clothes just the same as any other size and I want to feel comfortable shopping in a store that I know will actually cater for my size. Exercise and healthy doesn't mean generic sizing. Check my blood pressure/ cholesterol – I'm in fab health. I can run over 3 miles. I can deadlift 265lbs".
She goes on "My clothing size and weight on the scales is no better indication of my health than someone with poor health in a smaller body."
Nike follows suit with retailers including Old Navy and Nordstrom, as well as UK department store Debenhams. We can only hope that this diverse and accurate representation gains further momentum and takes hold globally!
"Finally a mannequin I can stand next to and not feel less about myself ! says Zena Mason
Zena says "Here's to finally getting some more active wear that fits and stays up, so far only Healthy Mommy tights have hit my mark! Thanks for showing the mannequin in a crop top – what a hugely powerful message I've been sent."
LONDON NIKE STORE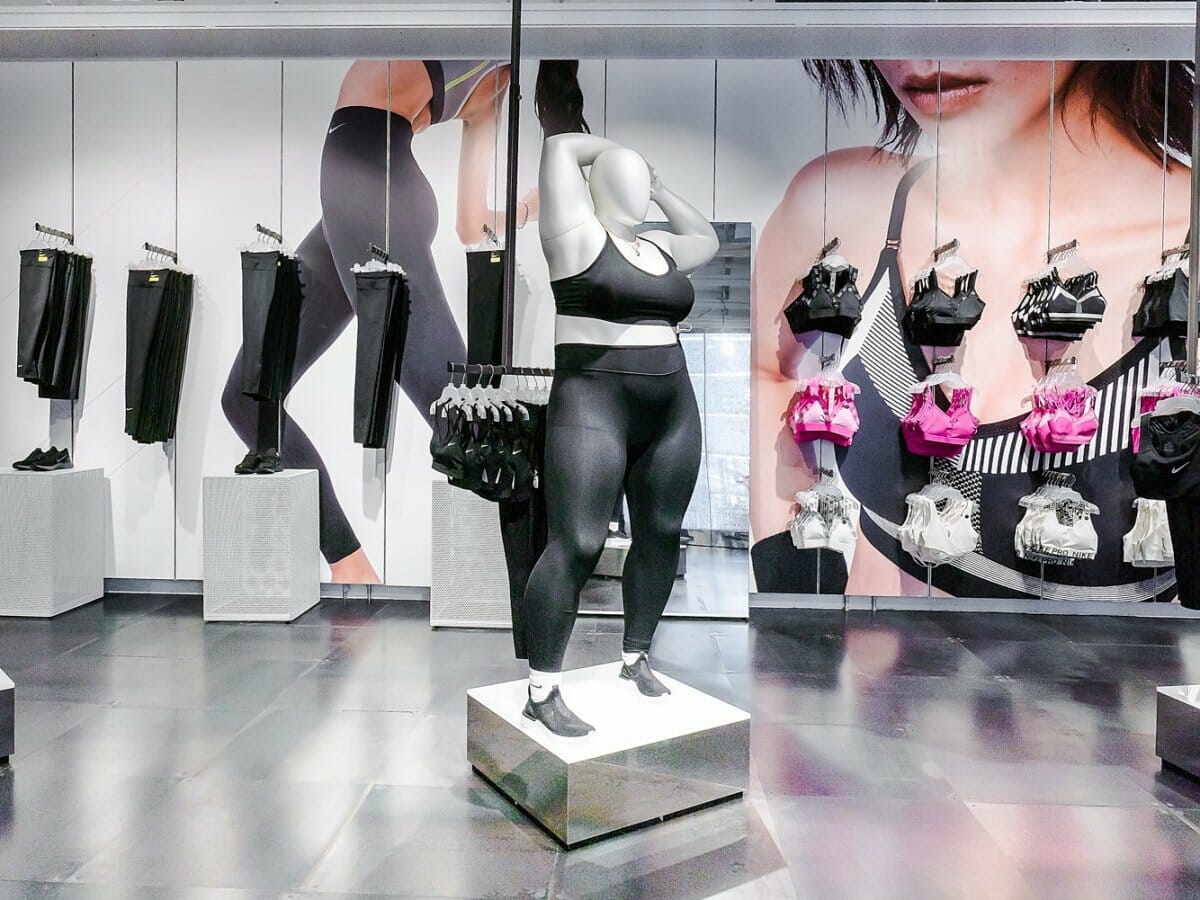 Nike opened the new display in their London store on the 5th June. The Vice President for women said in a statement "With the incredible momentum in women's sport right now, the redesigned space is just another demonstration of Nike's commitment to inspiring and serving the female athlete."
Public figure and influencer Grace Victory who formed a long-term collaboration with Nike in 2018, posted on Instagram that in sharing the campaign content she'd pay close attention to the connection between exercise, mental health and body image. She wrote on Twitter that she was "SO proud & looking forward to sharing a different narrative to exercise".
Healthy Mommy Amy Atkinson says "Being a size 14 myself I find it fantastic that a sporting company has introduced plus size mannequins."
"That does not mean I am unfit, lazy and unhealthy. Would I be able to hike up to the top of a high mountain if I was unfit? Or do boxing sessions 5 times a week if I was lazy? No! Just because you are a size 14 does not make you unhealthy. We all have to start somewhere and whether or not that's a size 8, 14 or 24 it does not matter."
Here at the Healthy Mommy we couldn't agree more. Its high time that the media represent all women and so Nike we applaud you!
The affordable, realistic and easy-to-follow Moms-only Challenge
Think of the 28 Day Weight Loss Challenge as the best value personal trainer, dietitian, meal planner, chef and motivational coach with DAILY support – that you have access to every day – without the high cost and all created JUST FOR MUMS.
Each month is DIFFERENT on the 28 Day Weight Loss Challenge. EVERY MONTH you receive NEW 28 Days of FAMILY FRIENDLY customisable meal plans, daily exercise plans with videos and daily support. It's also breastfeeding friendly.